Download Obituary Funeral Programs
Obituary Funeral Programs are generally letter-size and are folded in half. The cover of the program may have a photo of the deceased in front of a lovely background or design.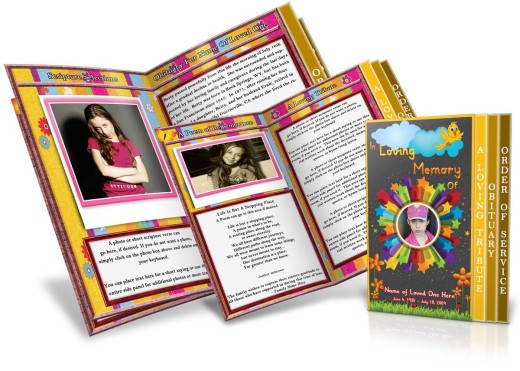 Other additions to the front of the program include the name of the deceased and dates of birth and death.
It is not necessary to have a photo on the cover so if you do not have one, ensure that the cover design can stand on its own without the need or embellishment of a photograph.
Printing in the newspaper is not only marginalized, but costly.
As people enter the funeral service, this program can be handed out.
A time-efficient solution for those with no time to create a program is a template program. A name and any wanted photographs are all that is necessary to complete a program template.
They can be a great source of assistance when you are in need of producing a memorable program but do not have the energy to create one from a blank canvas. You can purchase obituary funeral programs template designs for under $20.00, which is worth it for the extra time you will save.
Among a few of this website's resources are aesthetic obituary funeral programs, poems, readings, and Biblical references.