Funeral Programs Templates
Searching for an Elegant Beige Funeral Program Template that is easy to print and has a cutting-edge look? Elegant Beige Funeral Program Template is the Perfect decision because is has a measure of 8.5"x 11".

No Limitation on Content, Edit anything
Edit anytime – unlimited revisions even after purchased
Get a printable PDF downloaded to get it printed on your own

Searching for a White Floral Pro Funeral Program Template that is easy to print and has a cutting-edge look? White Floral Pro Funeral Program Template is the Perfect decision because is has a measure of 8.5"x 11".

No Limitation on Content, Edit anything
Edit anytime – unlimited revisions even after purchased
Get a printable PDF downloaded to get it printed on your own

Searching for a Grey and Burgundy Elegant Funeral Program Template that is easy to print and has a cutting-edge look? Grey and Burgundy Elegant Funeral Program Template is the Perfect decision because is has a measure of 8.5"x 11".

No Limitation on Content, Edit anything
Edit anytime – unlimited revisions even after purchased
Get a printable PDF downloaded to get it printed on your own

Searching for a Creative Watercolor Floral Funeral Program Template that is easy to print and has a cutting-edge look? Creative Watercolor Floral Funeral Program Template is the Perfect decision because is has a measure of 8.5"x 11".

No Limitation on Content, Edit anything
Edit anytime – unlimited revisions even after purchased
Get a printable PDF downloaded to get it printed on your own

Searching for a Soft Green and Grey Minimalist Floral Funeral Program Template that is easy to print and has a cutting-edge look?Soft Green and Grey Minimalist Floral Funeral Program Template is the Perfect decision because is has a measure of 8.5"x 11".

No Limitation on Content, Edit anything
Edit anytime – unlimited revisions even after purchased
Get a printable PDF downloaded to get it printed on your own

Searching for a Green Natural Funeral Program Template that is easy to print and has a cutting-edge look? Green Natural Funeral Program Template is the Perfect decision because is has a measure of 8.5"x 11".

No Limitation on Content, Edit anything
Edit anytime – unlimited revisions even after purchased
Get a printable PDF downloaded to get it printed on your own

Searching for a Pink Floral Paper Funeral Program Template that is easy to print and has a cutting-edge look? Pink Floral Paper Funeral Program Template is the Perfect decision because is has a measure of 8.5"x 11".

No Limitation on Content, Edit anything
Edit anytime – unlimited revisions even after purchased
Get a printable PDF downloaded to get it printed on your own

Searching for a Pink and Orange Watercolour Funeral Program Template that is easy to print and has a cutting-edge look? Pink and Orange Watercolour Funeral Program Template is the Perfect decision because is has a measure of 8.5"x 11".

No Limitation on Content, Edit anything
Edit anytime – unlimited revisions even after purchased
Get a printable PDF downloaded to get it printed on your own

Searching for a Blue and Pink Floral Funeral Program Template that is easy to print and has a cutting-edge look? Blue and Pink Floral Funeral Program Template is the Perfect decision because is has a measure of 8.5"x 11".

No Limitation on Content, Edit anything
Edit anytime – unlimited revisions even after purchased
Get a printable PDF downloaded to get it printed on your own

Searching for a Gray Elegant Oval Frame Funeral Program Template  that is easy to print and has a cutting-edge look? Gray Elegant Oval Frame Funeral Program Template is the Perfect decision because is has a measure of 8.5"x 11".

No Limitation on Content, Edit anything
Edit anytime – unlimited revisions even after purchased
Get a printable PDF downloaded to get it printed on your own

Searching for a Floral Rest in Peace Funeral Program Template that is easy to print and has a cutting-edge look?Floral Rest in Peace Funeral Program Template is the Perfect decision that is having a measure of 8.5"x 11".

No Limitation on Content, Edit anything
Edit anytime – unlimited revisions even after purchased
Get a printable PDF downloaded to get it printed on your own

Searching for a Blue Organic Minimal Invite Funeral Program Template that is easy to print and has a cutting-edge look? Blue Organic Minimal Invite Funeral Program Template is the Perfect decision that is having a measure of 8.5"x 11".

No Limitation on Content, Edit anything
Edit anytime – unlimited revisions even after purchased
Get a printable PDF downloaded to get it printed on your own

Searching for a Golden Minimalist Obituary Funeral Program Template that is easy to print and that has a cutting-edge look? Golden Minimalist Obituary Funeral Program Template Letter Size is the Perfect decision that is having a measure of 8.5"x 11".

No Limitation on Content, Edit anything
Edit anytime – unlimited revisions even after purchased
Get printable PDF downloaded to get it printed your own

Searching for a Beige Watercolor Flower Death Announcement Program that is easy to print and that has a cutting-edge look? Beige Watercolor Flower Death Announcement Program Letter Size is the Perfect decision that is having a measure of 8.5"x 11".

No Limitation on Content, Edit anything
Edit anytime – unlimited revisions even after purchased
Get printable PDF downloaded to get it printed your own

Searching for a Organic Minimal Funeral Program Template that is easy to print and that has a cutting-edge look? Organic Minimal Funeral Program Template Letter Size is the Perfect decision that is having a measure of 8.5"x 11".

No Limitation on Content, Edit anything
Edit anytime – unlimited revisions even after purchased
Get printable PDF downloaded to get it printed your own

Searching for a Beige Floral Decorative Funeral Booklet that is easy to print and that has a cutting-edge look? Beige Floral Decorative Funeral Booklet Letter Size is the Perfect decision that is having a measure of 8.5"x 11".

No Limitation on Content, Edit anything
Edit anytime – unlimited revisions even after purchased
Get printable PDF downloaded to get it printed your own

Searching for a Blue and Green Bordered Photo Funeral Program Template that is easy to print and that has a cutting-edge look? Blue and Green Bordered Photo Funeral Program Template Letter Size is the Perfect decision that is having a measure of 8.5"x 11".

No Limitation on Content, Edit anything
Edit anytime – unlimited revisions even after purchased
Get printable PDF downloaded to get it printed your own

Searching for a Beige Watercolour Flower Death Announcement that is easy to print and that has a cutting-edge look? Beige Watercolour Flower Death Announcement Letter Size is the Perfect decision that is having a measure of 8.5"x 11".

No Limitation on Content, Edit anything
Edit anytime – unlimited revisions even after purchased
Get printable PDF downloaded to get it printed your own

Searching for a Monochromatic Beige Death Announcement Funeral Program Template that is easy to print and that has a cutting-edge look? Monochromatic Beige Death Announcement Funeral Program Template Letter Size is the Perfect decision that is having a measure of 8.5"x 11".

No Limitation on Content, Edit anything
Edit anytime – unlimited revisions even after purchased
Get printable PDF downloaded to get it printed your own

Searching for a Green Cross Funeral Program Template that is easy to print and that has a cutting-edge look? Green Cross Funeral Program Template Letter Size is the Perfect decision that is having a measure of 8.5"x 11".

No Limitation on Content, Edit anything
Edit anytime – unlimited revisions even after purchased
Get printable PDF downloaded to get it printed your own

Searching for a Blush Pastel arch Funeral Program Template that is easy to print and that has a cutting-edge look? Blush Pastel arch Funeral Program Template Letter Size is the Perfect decision that is having a measure of 8.5"x 11".

No Limitation on Content, Edit anything
Edit anytime – unlimited revisions even after purchased
Get printable PDF downloaded to get it printed your own

Searching for a Pink Pattern Funeral Program Template that is easy to print and that has a cutting-edge look? Pink Pattern Funeral Program Template Letter Size is the Perfect decision that is having a measure of 8.5"x 11".

No Limitation on Content, Edit anything
Edit anytime – unlimited revisions even after purchased
Get printable PDF downloaded to get it printed your own

Searching for a Cream Floral Hibiscus Illustration Funeral Program Template that is easy to print and that has a cutting-edge look? Cream Floral Hibiscus Illustration Funeral Program Template Letter Size is the Perfect decision that is having a measure of 8.5"x 11".

No Limitation on Content, Edit anything
Edit anytime – unlimited revisions even after purchased
Get printable PDF downloaded to get it printed your own

Searching for a Maroon Wreath Memorial Service Funeral Program Template that is easy to print and that has a cutting-edge look? Maroon Wreath Memorial Service Funeral Program Template Letter Size is the Perfect decision that is having a measure of 8.5"x 11".

No Limitation on Content, Edit anything
Edit anytime – unlimited revisions even after purchased
Get printable PDF downloaded to get it printed your own

Searching for a Green Floral Watercolor Funeral Program Template that is easy to print and that has a cutting-edge look? Green Floral Watercolor Funeral Program Template Letter Size is the Perfect decision that is having a measure of 8.5"x 11".

No Limitation on Content, Edit anything
Edit anytime – unlimited revisions even after purchased
Get printable PDF downloaded to get it printed your own

Searching for a Doves In The Sky Funeral Program Template that is easy to print and that has a cutting-edge look? Doves In The Sky Funeral Program Template Letter Size is the Perfect decision that is having a measure of 8.5"x 11".

No Limitation on Content, Edit anything
Edit anytime – unlimited revisions even after purchased
Get printable PDF downloaded to get it printed your own

Searching for a Black Candle Light Funeral Program Template that is easy to print and that has a cutting-edge look? Black Candle Light Funeral Program Template Letter Size is the Perfect decision that is having a measure of 8.5"x 11".

No Limitation on Content, Edit anything
Edit anytime – unlimited revisions even after purchased
Get printable PDF downloaded to get it printed your own

Searching for a Fern Funeral Program Template that is easy to print and that has a cutting-edge look? Fern Funeral Program Template Letter Size is the Perfect decision that is having a measure of 8.5"x 11".

No Limitation on Content, Edit anything
Edit anytime – unlimited revisions even after purchased
Get printable PDF downloaded to get it printed your own

Searching for a Blue Classy Magazine Style Funeral Program Template that is easy to print and that has a cutting-edge look? Blue Classy Magazine Style Funeral Program Template Letter Size is the Perfect decision that is having a measure of 8.5"x 11".

No Limitation on Content, Edit anything
Edit anytime – unlimited revisions even after purchased
Get printable PDF downloaded to get it printed your own

Searching for a Frame Style Funeral Program Template that is easy to print and that has a cutting-edge look? Frame Style Funeral Program Template Letter Size is the Perfect decision that is having a measure of 8.5"x 11".

No Limitation on Content, Edit anything
Edit anytime – unlimited revisions even after purchased
Get printable PDF downloaded to get it printed your own
Creating a Funeral Program is Easy
Our online funeral program template software allows you to easily create 100% custom funeral programs in minutes while still keeping the desired quality. The application allows you to choose from hundreds of background templates we provide and also has the ability to upload your own background of your choice. Unlimited pictures and text boxes can be uploaded or inserted to your project as well and can be dragged and dropped anywhere on the page.
You will love, and most likely be amazed at how easy it is to erase backgrounds from pictures. Simply click on the red button to erase and the green button to restore what you may not have wanted to erase.
The application uses new online HTML5 technology that enables the software to auto-save every change you make to your funeral program. This also means that you can access your project on any computer in the world – Mac or PC so you will never have to download the software.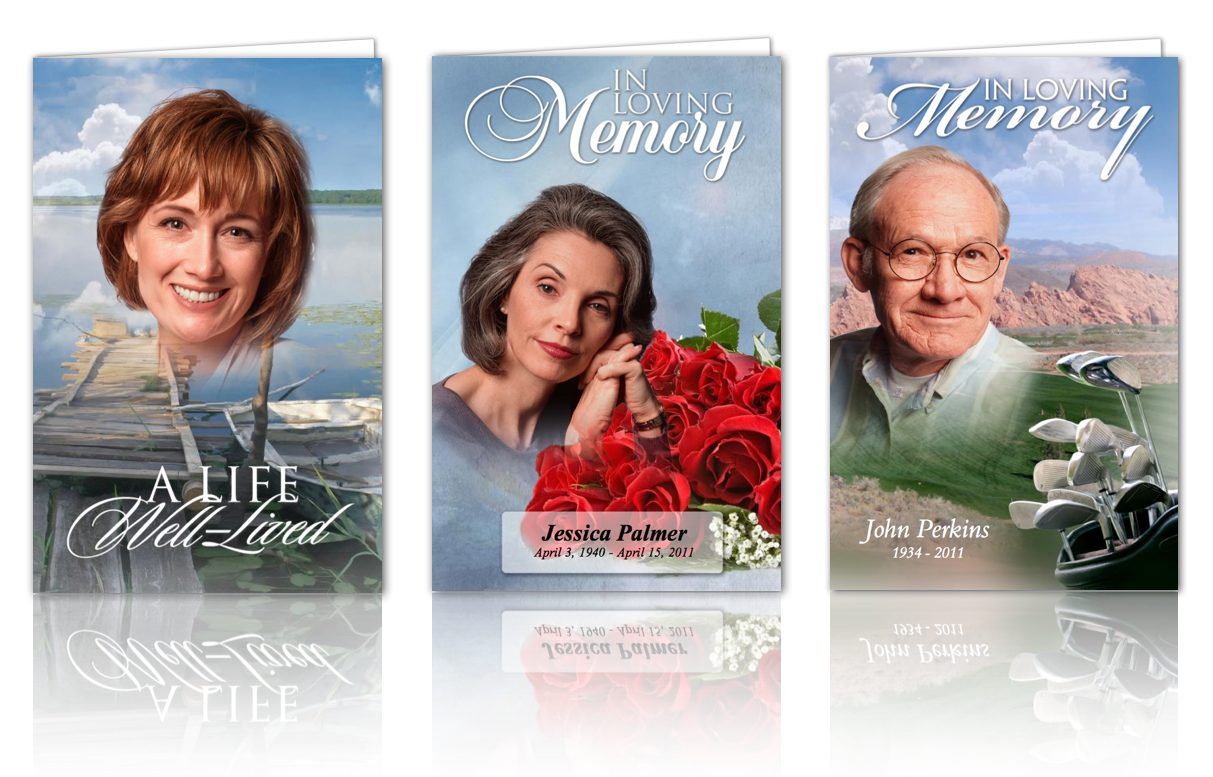 Advantages for Funeral Programs
When you start planning a funeral, you will require to present the funeral service information or you can say a funeral program in well-written format. You can create one for your funeral service using our funeral programs. During this event, not every family is familiar with "how to write an obituary" and "how to create funeral programs". In that case, funeral templates or obituary programs provided at QuickFuneral.com is very helpful to simply edit STEP-By-STEP and get the self-printable file downloaded.
5 Features of Funeral Programs Includes
Funeral Program Cover is pre-designed to Quick Add photo, name and dates
Funeral Program Back Cover is pre-templated to insert a thank-you note or funeral acknowledgment.
All funeral program template inner pages are pre-configured for writing "funeral order of service" and "funeral obituary" information.
There are many extra lines, where you can add a detailed life moment of the deceased person.
The funeral program out can be saved as PDF for self-print at home or at any nearest printing center.
Funeral Program Templates are designed to target all type of possible funeral program layout for different type of profile of funeral services. funeral programs for military services, funeral programs for the farmer, funeral programs for baby are available for online edit. Relation-based funeral programs, eg: funeral programs for mom, funeral programs for father, funeral programs for grandmother and for other relations are also available at QuickFuneral.com
Why should you start creating funeral programs online?
Basically, a funeral program is a printed report that framework the key focuses in the memorial service and abridges the life accomplishments of your perished adored one. Furthermore, it can also be regarded as a remembrance keepsake for all the attendees.
We know that the feeling of the passing of your loved one cannot be expressed simply by words. Just frame down your sad emotions by creating funeral programs online. One should choose this way of creating these funeral programs online because of plenty of beneficial reasons like:
It is considered a time savvy procedure: Designing a funeral program online is quite a time-consuming process .you just have to choose from the pre-formatted templates available online, customizing according to your choice and make them ready.
A pool of choice can be available easily: There are lots of funeral programs and templates that come in a variety of sizes, styles, colors, and layouts.one can make as per his/her own choice. Not only this but also while picking a layout, you may pick a subject in light of most loved shading or blossom or a most loved place.
Doing this task by yourself online can save your money: waving outside for making any funeral program is costlier than just by doing it your own.
You can download and print them immediately: A quick downloadable and printable services are always there to help you out in a time of grief.
One can easily personalize these funeral templates available online: Having fundamental computer knowledge is enough to customize these templates. The personalizing options are quite impressible having ease of use.
We are confident you will be pleasantly surprised when you use our software to create your own funeral programs and templates. Enjoy! Please use Live Chat for any further questions. We are happy to help!