Other sizes of memorial programs are shown below. The neat thing about using QuickFuneral to create your memorial program is you can create such a custom finished product that it will look like you created it using Photoshop. 
The only difference is we have made it far easier for you to create a memorial program and create it right online so you don't have to download any software. All you need is your web browser. We recommend using Google Chrome as your web browsers.
Memorial Program – Different Sizes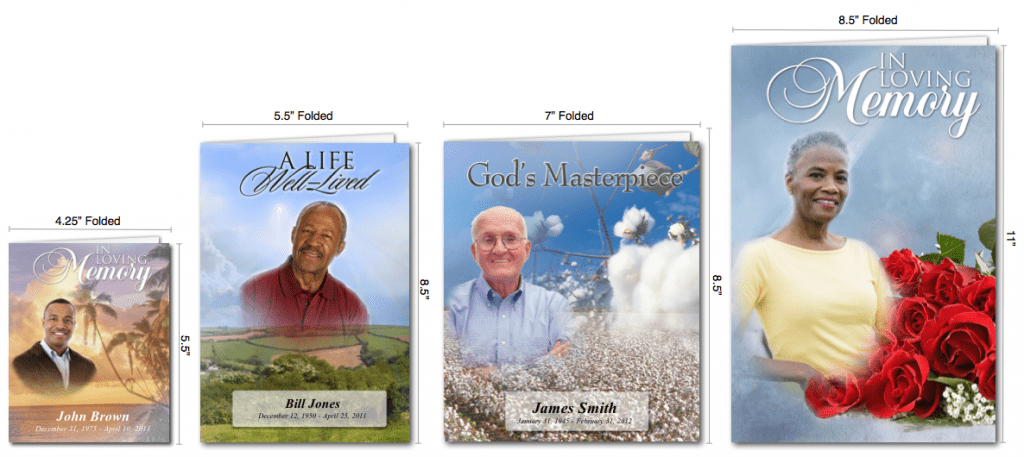 If you would like to create other products than a memorial program, you can do that as well. The pictures below show some of the other products that you can create with QuickFuneral' online application.
When you are done creating your memorial program, you will probably be surprised at what you have created. Many people say that they "can't believe that they created what they did" and "how great the finished product looks".
Our customers also often tell us that everyone at the memorial service loved the memorial program that they made and that it was the "perfect way to help celebrate the life of their loved one".
When you create your memorial program online, you can use any of our memorial program templates or upload your background. You can also upload as many photos as you want. Our eraser and masking tool will allow you to erase any portion of a photo and blend it into the background.
You can add as many text boxes as you want and drag and drop them anywhere. When you are done editing your memorial program, you will be able to save it as a PDF file and print on any printer. You can even transfer your PDF file to a USB/jump drive and take it to a near-by printing shop.
Searching for a Bulltongue Arrowhead Funeral Program Template  that is easy to print and has a cutting-edge look? Bulltongue Arrowhead Funeral Program Template   is the Perfect decision because it measures 8.5"x 11".

No Limitation on Content, Edit anything
Edit anytime – unlimited revisions even after purchased
Get a printable PDF downloaded to get it printed on your own

Searching for a Grey Floral White Tiny Flower Funeral Program Template  that is easy to print and has a cutting-edge look? Grey Floral White Tiny Flower Funeral Program Template   is the Perfect decision because it measures 8.5"x 11".

No Limitation on Content, Edit anything
Edit anytime – unlimited revisions even after purchased
Get a printable PDF downloaded to get it printed on your own

Searching for a Red Flower Dark Soil Funeral Program Template that is easy to print and has a cutting-edge look? Red Flower Dark Soil Funeral Program Template  is the Perfect decision because it measures 8.5"x 11".

No Limitation on Content, Edit anything
Edit anytime – unlimited revisions even after purchased
Get a printable PDF downloaded to get it printed on your own

Searching for a Pink Rose Frame Floral Oval Badge Funeral Program Template that is easy to print and has a cutting-edge look? Pink Rose Frame Floral Oval Badge Funeral Program Template  is the Perfect decision because it measures 8.5"x 11".

No Limitation on Content, Edit anything
Edit anytime – unlimited revisions even after purchased
Get a printable PDF downloaded to get it printed on your own

Searching for a Brown and White Classic Funeral Program Template that is easy to print and has a cutting-edge look? Brown and White Classic Funeral Program Template  is the Perfect decision because it measures 8.5"x 11".

No Limitation on Content, Edit anything
Edit anytime – unlimited revisions even after purchased
Get a printable PDF downloaded to get it printed on your own

Searching for a Purple Elegant Watercolor Funeral Program Template that is easy to print and has a cutting-edge look? Purple Elegant Watercolor Funeral Program Template is the Perfect decision because it measures 8.5"x 11".

No Limitation on Content, Edit anything
Edit anytime – unlimited revisions even after purchased
Get a printable PDF downloaded to get it printed on your own

Searching for a Cream and Green Photo Obituary Program that is easy to print and has a cutting-edge look? Cream and Green Photo Obituary Program is the Perfect decision because it measures 8.5"x 11".

No Limitation on Content, Edit anything
Edit anytime – unlimited revisions even after purchased
Get a printable PDF downloaded to get it printed on your own

Searching for a Cream Simple Elegant Photo Church Program that is easy to print and has a cutting-edge look? Cream Simple Elegant Photo Church Program is the Perfect decision because it measures 8.5"x 11".

No Limitation on Content, Edit anything
Edit anytime – unlimited revisions even after purchased
Get a printable PDF downloaded to get it printed on your own

Searching for a Grey Classic Minimalist Funeral Program Template that is easy to print and has a cutting-edge look? Grey Classic Minimalist Funeral Program Template is the Perfect decision because it measures 8.5"x 11".

No Limitation on Content, Edit anything
Edit anytime – unlimited revisions even after purchased
Get a printable PDF downloaded to get it printed on your own

Searching for a White Classic Funeral Program Template that is easy to print and has a cutting-edge look? White Classic Funeral Program Template is the Perfect decision because it measures 8.5"x 11".

No Limitation on Content, Edit anything
Edit anytime – unlimited revisions even after purchased
Get a printable PDF downloaded to get it printed on your own

Searching for a Cream Gold Marble Funeral Program Template that is easy to print and has a cutting-edge look? Cream Gold Marble Funeral Program Template is the Perfect decision because it measures 8.5"x 11".

No Limitation on Content, Edit anything
Edit anytime – unlimited revisions even after purchased
Get a printable PDF downloaded to get it printed on your own

Searching for an Elegant Beige Funeral Program Template that is easy to print and has a cutting-edge look? Elegant Beige Funeral Program Template is the Perfect decision because is has a measure of 8.5"x 11".

No Limitation on Content, Edit anything
Edit anytime – unlimited revisions even after purchased
Get a printable PDF downloaded to get it printed on your own