How to Write an Obituary Program
Writing an obituary is not much tricky, obituary just contains a complete shadow of life events in limited words using text. An Obituary Program can also contain information about the family tree, life events, etc.
Let's see how can we write an obituary program below using some great obituary program examples.
Writing an funeral program obituary
There are generally two different obituaries when dealing with the death of a loved one. The newspaper obituary is a shorter obituary focusing on survivors and funeral service information. The funeral program obituary allows for a much more detailed story.
When attending a funeral, it has become very customary to provide a funeral program for the family and friends of a loved one. It serves as a very informative keepsake about a person's life and also about the final services.
The main part of any funeral program is the obituary portion which is the story of their life, from birth to death for everyone to know about what the loved one has done during their time here on this earth. It is generally considered the most important part of the funeral program because it really gives a detailed writing about the life of the person. Being so important, it is also considered the hardest part to put together because information has to be pulled from different sources to really cover the entire life of a person, and not just one person's viewpoint.
Get contact information for people who knew your loved one. These contact people will be your resources for gathering information to cover the different time spans of your loved one's life.
Next, get information from those who knew the deceased during their after education period. Usually a very close friend or spouse would cover this part of the information.
Finally, get the perspective of a younger generation that knew them. A child or favorite niece or nephew would be good to cover this information.
Attempt to meet with all of your contacts at the same time or within a very close time frame so that stories as you hear may overlap and it can be put together correctly. One person's story may help to fill in a gap from another's story – that is why you would want to do the stories together or within a short time frame.
Examples of Obituary Programs
Unobtrusively report the death of a friend or family member with this Funeral Program Template. It occupies an estimation of 8.5" x 11". Textual styles and hues are variable, and the entire look might be improved to an all-around enriched tribute with fringes, photograph arrangements, and line designs.

Include insights about the episode utilizing altering instruments accessible on our Funeral Program Template site and offers this one final support of the individual you have lost until the end of the time.

On the off chance that you might want a more formal, lengthier memorial service program, then this given Funeral Program Template serves its best. The layout has a measurement of 8.5" x 11". It is a single folded burial service template that is covering all the necessary points that has to be in incorporated in memorial service program.

We offer proficient quality programs in which the texts, images can be personalized using the Microsoft word application .Use this layout in remembrance program of the perished one's.

The primary hues for this Funeral Program Template are light golden tints. The back of the burial service Program layout proceeds with an organizing flower foundation outline with beige excessively that is ideal for a sonnet or short eulogy/memoir. The layout is possessing a measurement of 8.5" x 11".

Within shows a complimentary foundation flanked plan which can show the memorial service program request of administration, verse, or finished burial service eulogy. To alter the intro page title, expel our title picture, make a content box and utilize your own textual styles.

The main color of the Funeral Program Template is sky blue and white conveying an estimation of 8.5" x 11". The layout offers a transparent overlay at the back that is containing the commemoration benefit verse. Your adored one's photograph will be shown on the roundabout casing at the front.

The internal of the format proceeds with a complement of angle shading that is having the tribute content .Replace it with your own content and use in the dedication benefit program.

The Remarkable view of this given funeral program template is looking very gorgeous and presentable that is holding a size of 8.5" x 11".The color that it is possessing in the background is "adding the feathers to one's cap". At the bottom right of this layout, beautiful bouquet of red roses can be seen that are known for having their own language, as they depicts a delicate gesture of congratulations on the hand amid a period of mourning.
The foundation demonstrates a blend of two hues demonstrates a shining effect on everywhere throughout the memorial service program layout making it more appealing and unbelievable. You can utilize our given content boxes by substituting with our own content. You are allowed to utilize them the way you want.

Burial service Program Template assumes an essential part in the recognition program of your adored one that has been withdrawn from the world. The layouts are circulated to every one of the individuals show over the commemoration benefit .This Funeral Program Template measures 8.5″x 11″ having a light shade. The utilization of diminish light demonstrates the religious subject fused in it.

At the internal side of this design, there is space to embed the name with birth-demise dates of the dead one's. In the wake of altering the content, these layouts and can be downloaded.

An exceptionally lovely view of a funeral program template installed in a 8.5" x 11" measure format where at the last, a flame is consuming that demonstrates the death of time, faith in god. It likewise symbolizes the light in the dimness of a person. It is dealt with as an indication of the perished one's baptismal pledges and any desire for interminable life and salvation achieved by the demise.
The very light greenish color in the background of this beautiful funeral program template is associated with resurrection and regeneration, giving us strength to cope with adversity. Experiment with this format on any burial service program as the content boxes in these are editable and simple to utilize.

The notable perspective of this given Funeral program template is looking extremely beautiful and respectable that is holding a size of 8.5″ x 11″.The shading that it is having out of sight is "adding the quills to one's top". At the base right of this layout, beautiful bunch of yellow roses can be seen that are known for having their own particular dialect. Yellow color of flowers delineates a sensitive signal of communicating a sympathy.
The light clouds prevailing in the sky indicates the current situation of your mind. The main color of this amazing template is blue that combines with the sea giving a very realistic outlook to this funeral program template. Text boxes are fully customizable and easily usable.

This glowing Funeral program template is having a measurement of 8.5" x 11" in which the brightening sun can be seen that represents the turning point in one's life. The setting of the sun indicates that the journey of life has been completed and shows darkness with the fading of the light.
The green grass depicts the emotional discontent and also the loss situations. The overall template is communicating a soothing effect and giving a realistic look. The content boxes are re-writable and can be re utilized as a part of the way you need and the format can be downloaded.

The given Funeral Program layout has an engaging appearance conveying an estimation of 8.5″ x 11″. The blue shade of the sky has made it more alluring. You can utilize this format in a burial service program of your died one's that is giving a mitigating touch.

In the left side, there is compartment that is holding the internment benefit verse .In the base right of this lovely design, there is space to give the name and birth-demise dates of the person who has been died .The is completely editable format that can be tweaked utilizing the Microsoft word application.

Here is an absolutely amazing view of the Funeral program template having a measurement of 8.5" x 11". The principle shading is dim and light sky blue with mists spreading in the sky as a heart that speaks to direction, consolation and love. They likewise symbolizes that there is still expectation and everything will be okay and in this way giving us energy to adapt to the circumstance.

This internment benefit program design bargains the administration verse in the inward page and the expired one's photo with birth and passing dates at the front. Customize this design and experiment with its adaptability

Here is a very beautiful view of the Funeral program template possessing a measurement of 8.5" x 11". The Progressive change of two hues that can be seen underneath the mists looks cute demonstrating the sentiment dejection on death of friends and family.
At the base center of this delightful format, a wonderful clock is embedded that shows the finish of voyage of somebody's life. The hands of the clock shows not to stop and gives us quality not to get down in terrible circumstances. Our format is completely adaptable and content boxes can be get altered by you.
A memorial program is easy to create and is also known as a memorial program template, funeral memorial program, memorial service program, funeral program, obituary template, funeral brochure, etc.
Memorial programs are easier to create if you have all the information gathered that you are going to include in your project. If you do not have all the information gathered yet, now worries, you can always start a memorial program to get some ideas then come back later and finish it.
You can also create a memorial program of virtually any size. The example memorial program below is an example of an 17 x 11 memorial program.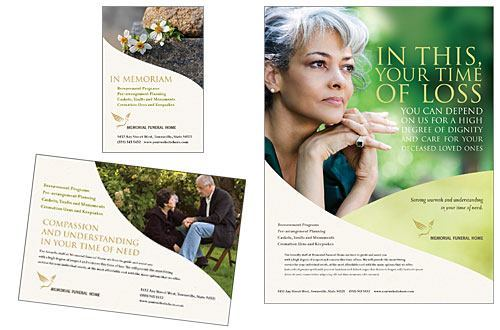 Memorial Program – Different Sizes
Other sizes of memorial programs are shown below. The neat thing about using Card Designer to create your memorial program is you can create such a custom finished product that it will look like you created it using Photoshop. The only difference is we have made it far easier for you to create a memorial program and create it right online so you don't have to download any software. All you need is your web browser. We recommend using Google Chrome.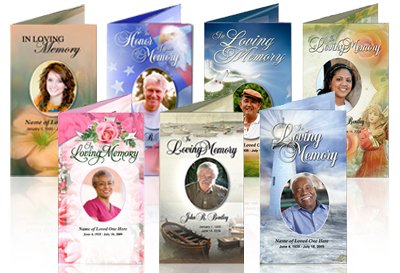 If you would like to create other products than a memorial program, you can do that as well. The pictures below show some of the other products that you can create with Card Designer' online application.
When you are done creating your memorial program, you will probably be surprised at what you have created. Many people say that they "can't believe that they created what they did" and "how great the finished product looks". Our customers also often tell us that everyone at the memorial service loved the memorial program that they made and that it was the "perfect way to help celebrate the life of their loved one".
When you create your memorial program online, you can use any of our memorial program templates or upload your background. You can also upload as many photos as you want. Our eraser and masking tool will allow you to erase any portion of a photo and blend it into the background. You can add as many text boxes as you want and drag and drop them anywhere. When you are done editing your memorial program, you will be able to save it as a PDF file and print on any printer. You can even transfer your PDF file to a USB/jump drive and take it to a near-by printing shop.