Funeral Program booklet
A funeral program booklet can be seen as a document imprinted on a sheet of paper that showcases the guidelines or the instructions during a funeral program. The nuts and bolts of a funeral ceremony are outlined in a funeral program booklet.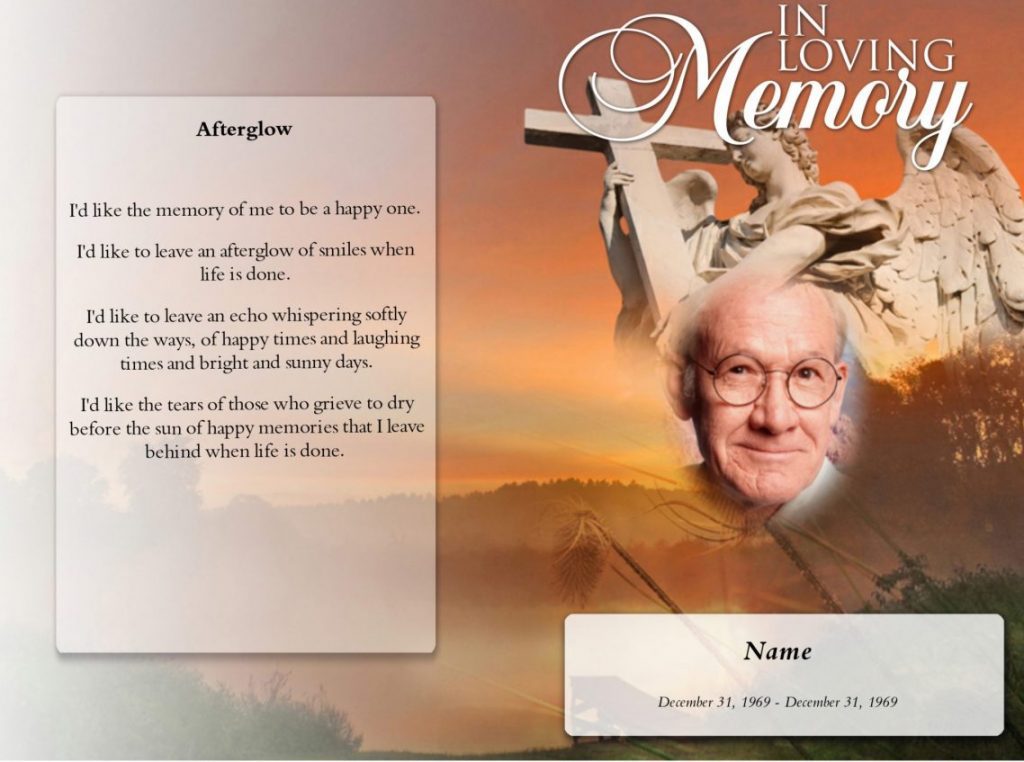 A multiple sheets of paper typically of letter size, are folded together to form a booklet known as the funeral program booklet. It keeps track of all the records of the important events and accomplishments of your love done. The funeral program booklet is distributed to every individual present during a memorial service. It is also served as a remembrance token or keepsake of the perished individual.
You can place multiple pages of photo collages within as well as many family tributes. There is no limit on the amount of pages you can have but it will depend on your printing budget.
Creating a funeral program booklet from scratch may not be an easy task for some. Mainly because of the short time window one has to prepare a booklet in the funeral planning stage. It's truly best to utilize a funeral program booklet template which provides a layout and format that has taken most of the work from you. The only thing left to do in these types of templates is insert your text information and related photos.
A Funeral program Booklet can be a bit tricky to put together. If you are planning to use Microsoft Word, it may take a little more planning than any other application. This is mainly because Word does not have the capability of creating booklets automatically. There are some helpful websites such as the one noted below that provide training on how to accomplish this. It's not too difficult once you're shown how to do so.
If you are planning to print a funeral program booklet from your own home printer, it is handy to have a printer that prints both sides at the same time. If you do not have this, then you will need to flip the page over in order to have printing on the opposite side.
The life achievements or accomplishments are summarized in a funeral program booklet.
A Funeral program booklet comes in variety of sizes, designs and layouts. The most general form of booklet comes a size of 8.5" x 11"known as single folded program booklet. Varies booklet differs in sizes, themes, colors. A single –folded booklet folds down at the middle. The deceased's family prepares the information to be included in a funeral program booklet. They can likewise also take a help form a funeral home by funeral home directors and officiants.
You may also take help from an organization like we are in preparing a funeral program booklet. We assist you in making these booklets and make your work much easier.
The components of a funeral program booklet that has to be taken into consideration are:-
The front Page of the booklet, containing the photograph of the deceased person, birth-death date and a short message, the area and the time of the funeral service.
The funeral service events are loaded on the inner pages of the order of service templates.
The back cover, containing a lyric with a specific end goal to say goodbye to the cherished one.
The size of a funeral program booklet totally depends on you. It may contain as many pages as you want. It may comprise either page or multiple pages depending fully on the amount of information you want to include. You can likewise pick a graduated or step crease memorial service booklet, which has a balanced overlay that uncovers a hued panel.
Let's have a look on the necessary information to be included in a funeral program booklet:-
The cover or the Front Page:-
The front of the memorial service booklet may have a photo of the perished, and also their name, date of birth, date of death, area and time of administration, and a burial service program title or subtitle.
Order of service for the funeral:-
This is the piece of the burial service program or commemoration booklet that blueprints the occasions for the administration. The request of administration can be religious or mainstream and ordinarily incorporates a melodic prelude, burial service petitions, memorial service sonnets, burial service tunes, memorial service readings, a tribute perusing, and a commendation.
Eulogy or Funeral Tribute:-
The Obituary points of interest the true to life features of the perished individual's life. The eulogy commonly contains data including the birth date, spots of habitation and data about relatives. Other data, for example, side interests, and individual stories may likewise be incorporated.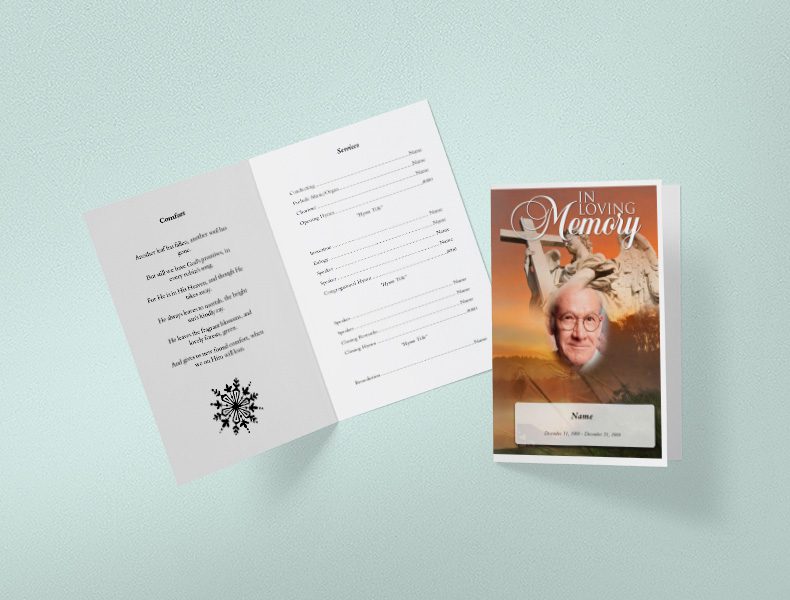 Readings and poems of a funeral program:-
Burial service Booklets may likewise incorporate different memorial service and remembrance ballads, sacred writing readings, cites melody verses and occasion exceptional notes about your cherished one.
Funeral Scriptures:-
The funeral Scriptures are read out at the service, and can be used in a variety of memorial printed material like the funeral program booklet.  Funeral Scriptures can bring comfort to those who are grieving the loss of a loved one.
Photographs:-
The presence of photographs in a funeral program booklet can give a unique and realistic touch to it. Photographs can also transform your funeral program booklet into a cherished souvenir.
Booklets may incorporate a dedication sonnets, main tunes or petitions. Once in a while extra photographs of the expired or their relatives might be incorporated for a more customized touch.
Postings of Pall or Flower Bearers and Acknowledgments:-
Booklets may likewise incorporate posting of pallbearers (men that convey the coffin), bloom bearers (ladies generally convey blossoms and place them on the modify) or uncommon affirmations or a short card to say thanks from the family.
Select a preferred size of the layout for which you want to make a funeral booklet, choose design of the layout ,and get ready to edit with own your information in it. The editing can be done easily in just only a few couple of steps utilizing the Microsoft word software application.
After gathering the above information for a funeral program booklet, it is prepared for printing. You can do this at home on the off chance that you have an astounding printer or you can take it to a photography or printing shop.
Funeral program booklet Printing
The errand of funeral program booklet printing is to be done after you have finished with making the fitting burial service format for the left soul. The picking of a format for a funeral or memorial service program from a lot of them might be an extreme or befuddling assignment. The individual data is gathered and get installed into the formats and later subjected to printing.
While setting off to a Funeral program booklet Printing, seeing a few nuts and bolts may discover you a simpler and smoother approach to finish it. Funeral program booklet printing should be possible either at home or at some Copy Shop. Regardless of whether you need to do it your own on your PC using your nearby Printer or you need to do it by another gathering, Choice is yours!
Printing a funeral program booklet at Home
If you require complete inventive control of the look and feel of your ventures, you apparently are best off sketching out your funeral or burial service programs yourself. This may be the most monetarily sensible decision; be that as it may, it's the most repetitive, also. You will have the ability to deal with each piece of the internment benefit program or supplication card – shading refers to, pictures.
Type of Printer to be used while printing a funeral program booklet at home: – Today, both laser and ink jet printers would be able to produce quality illustrations. Here are some speedy data about the two sorts of printers.
These work by showering a mix of hued inks onto the page. On the off chance that you are utilizing an ink fly printer, ensure you have enough ink closes by. Contingent upon the shade of your funeral program booklet design, you may utilize one ink shading increasingly that another and this may misshape or change your illustrations hues.
Ink jet printer may likewise take somewhat longer to print pages. Some ink jet printers can print huge size on non-standard size paper and can print on cardstock. A few models may likewise have the "borderless printing" highlight which enables you to print to the edges of the paper.
Laser printer utilizes warmth to "meld" hues onto the page. Shading laser printers can be more costly that ink jet printers. Laser printers print speedier. Laser printers utilize toner, which can be more costly than ink stream cartridges. Laser printers may likewise have limitations on how substantial your paper can be. Most laser printers don't suggest imprinting on cardstock. Most laser printers don't print on bigger estimated paper and don't have the "borderless" printing highlight.
Also, you will need to ensure your printer has the perfect measure of paper and ink before you begin printing. Keep in mind the cost of ink can be costly, so measure all the cost choices previously.
Printing a funeral program booklet at a Copy Shop
Dependent upon where you live, you may have a couple of decisions for printing funeral program booklet. Despite whether there are no retail dispatch and print or office supply centers in your general region, you should, regardless, have the ability to use a business print shop that serves neighborhood associations.
You have a superior decision for printing a funeral program booklet likewise, similar to; you can work with us to complete your imprinting in time. We will do our best to print it and get conveyed to you that day. You simply make a point to give your right address/contact subtle elements.
Here lies an aesthetic Funeral Template of 8.5″ x 11″ having light shade and appearance. If you are hunting down a clear and alleviate arrange then this one is totally fit for you. It is a single folded burial service template that is covering all the necessary points that has to be in incorporated in memorial service program.
The layout has a flower pattern at the background with a very realistic touch. All the texts, images are changeable here. You can feature your content and just use the way you want using the Microsoft word application.

In the event that you are searching for a light shade layout, at that point your pursuit closes here. It is a diminished shading memorial service program layout that highlights the practical shades of life. The nature of the format is quite recently marvelous and solid having a 8.5″ x 11″ design. The diminish shade of this Funeral Program Template is engrossing the consideration.

The regular focuses immersing everywhere throughout the organization has breathe life into the format for remembrance benefit. We can adjust the shading plans likewise to coordinate the inclinations of the life of a perished one. Utilize this one for offering tribute to your cherished one's as the substance boxes are completely modifiable.

Searching for a Bike Ride Funeral Program Template that is easy to print and amass and that has a cutting-edge look? This Bike Ride Funeral Program Template Letter Size is the Perfect decision that is having a measure of 8.5"x 11".

No Limitation on Content, Edit anything
Edit anytime – unlimited revisions even after purchased
Get printable PDF downloaded to get it printed your own

Unobtrusively report the death of a friend or family member with this Funeral Program Template. It occupies an estimation of 8.5" x 11". Textual styles and hues are variable, and the entire look might be improved to an all-around enriched tribute with fringes, photograph arrangements, and line designs.

Include insights about the episode utilizing altering instruments accessible on our Funeral Program Template site and offers this one final support of the individual you have lost until the end of the time.

An unprecedented astounding perspective of a format with a measure of 8.5" x 11", keeping in mind the end goal to give tribute somebody who has been passed away. The wonderful design of this Funeral program template with the excellent sea portrays the sentiment profound distress on remembering the cherished ones. It likewise demonstrates the oblivious to human feelings.

The back of the funeral program template proceeds with a comparable foundation angle outline with white straightforward excessively that is ideal for a ballad or short tribute/life story. Utilize our remarkable format for any funeral program occasion .All the boxes given are modifiable.

Here is a stunning perspective of the Funeral Program Template that portrays the religious topic of an entombment benefit program. The format is covering a region of 8.5″ x 11″.The yellow light of the flame symbolizes the confidence that you are communicating simultaneously. A lit flame can interface the physical world with the profound domain.

Don't hesitate to utilize this format as it is adjustable, the writings and pictures can be modified by you. We additionally give full client bolster on the off chance that you discover any trouble while utilizing these stunning layouts.

The primary hues for this Funeral Program Template are light golden tints. The back of the burial service Program layout proceeds with an organizing flower foundation outline with beige excessively that is ideal for a sonnet or short eulogy/memoir. The layout is possessing a measurement of 8.5" x 11".

Within shows a complimentary foundation flanked plan which can show the memorial service program request of administration, verse, or finished burial service eulogy. To alter the intro page title, expel our title picture, make a content box and utilize your own textual styles.

The main color of the Funeral Program Template is sky blue and white conveying an estimation of 8.5" x 11". The layout offers a transparent overlay at the back that is containing the commemoration benefit verse. Your adored one's photograph will be shown on the roundabout casing at the front.

The internal of the format proceeds with a complement of angle shading that is having the tribute content .Replace it with your own content and use in the dedication benefit program.

A beautiful 8.5 x 11 Funeral Program template called "Cloud Land Funeral Program Template". This bi-fold Cloud Land Funeral Program Template contains beautiful cloudy weather and green land  background which gives an appealing look to printable bifold funeral program.

No Limitation on Content, Edit anything
Edit anytime – unlimited revisions even after purchased
Get printable PDF downloaded to get it printed your own

This Cloud Land Funeral Program Template contains 1 folds with 4 editable and printable sides where you can add your own content such as order of service details and other funeral service details.

There is space to add your family photos to make it more attractive.

Searching for a Colored Autumn Funeral Program Template that is easy to print and amass and that has a cutting-edge look? This Colored Autumn Funeral Program Template Letter Size is the Perfect decision that is having a measure of 8.5"x 11".

No Limitation on Content, Edit anything
Edit anytime – unlimited revisions even after purchased
Get printable PDF downloaded to get it printed your own

A dazzling Funeral Program Template 8.5" x 11" that presents clouds in the bottom resembles the wispy twists of hair. Clouds are emblematically connected with the enthusiastic conditions of the brain, physical conditions of the world and the conditions identified with life.

On the other hand, portray of Lord Jesus at the top right of this amazing template describes the blending of god with humankind. The hugeness of this is significant and will take all endlessness for us to appreciate.

The background of this Funeral Program Template proceeds with the beautiful sky blue color that bears a resemblance to a cloudless precious stone, clear and sparkling. Utilize this program for any occasion or event, all content boxes are completely editable.
Funeral program booklet is an awesome approach to pay tribute to a friend or family member by giving an enduring token. We are devoted to ensuring our clients are given a peaceful involvement with the printable funeral program booklet, which can be effortlessly altered through Microsoft Word and imprinted in boundless amounts at an exceptionally reasonable cost.
We offer lovely funeral program booklet for moment download at a low cost. Every last one of our memorial service program formats is made with a one of a kind outline comprising of top-notch shading facilitated covers and inside pages.
Funeral program booklet is a marvelous way to deal with pay tribute to a companion or relative by giving a continuing token. We are committed to guaranteeing our customers are given a serene contribution with the printable funeral program booklet format, which can be easily adjusted through Microsoft Word and engraved in vast sums at an especially sensible cost.
The delightful Funeral program booklet format may be spread at the commemoration administration to outfit members with a recognition token of the died treasured one. The formats may moreover be used as recognition programs and in addition to a commitment advantage. Take a gander at our delightful assurance of dedication benefit programs in our store.
We offer beautiful memorial service handout layout for minute download requiring little to no effort. Each and every one of our funeral program booklet groups is made with an exceptional blueprint containing choice shading encouraged spreads and inside pages.
Funeral program Booklet for the burial service has a specific value joined to them for the participants as it urges them to take after and sing the lyrics and in the meantime comprehends the readings and tributes. The Order of Service will make the parade simple and smooth for the family and also for the visitors.
Customize our layouts for funeral program booklet in multiple ways to honor your loved one. You can also take our assistance in personalizing these booklets. We are always with you in the time of grief.
With a little exertion, you can make a delightful, funeral program booklet and templates that will enable you to treasure your cherished one's memory for a considerable length of time to come!