Writing Your Own Obituary
It may seem a little strange to write your own obituary, but actually, it is the best way to write what you want others to know about you after you have passed on. It is a great way to help your loved ones cope at a difficult time and you can rest assured that you have had a final farewell.
Preparing for Your Funeral: Obituaries, Wills and Donations
More and more people are preparing their own funerals long before they expect to pass on. Some people are even paying for them upfront so there is no burden to family and so that they can make arrangements that they want for their final farewell. Many people are choosing their casket, flowers, music, and even deciding on the menu for their funerals with the help of their funeral director. Preplanning like this benefits everyone. You get to choose things that you want for your funeral arrangements, and how you'd like people to donate money in lieu of flowers. But most importantly, preplanning reduces the responsibilities of your loved ones during a time of grief and sadness.
Create a Custom Funeral Program Online Now

Funeral Programs
Funeral Programs – are also known as a funeral bulletin, funeral memorial programs, funeral service programs or memorial service program and are used to supply information to those that are in attendance at the funeral and usually lists the order of events, pallbearers, special poems and verses, and anything else that the family wants to include to make the service a memorable experience.
Traditionally, the main focus that goes into the funeral program has been the text. With new technologies, families can now incorporate custom images in addition to text to help celebrate the life of the person that has passed on.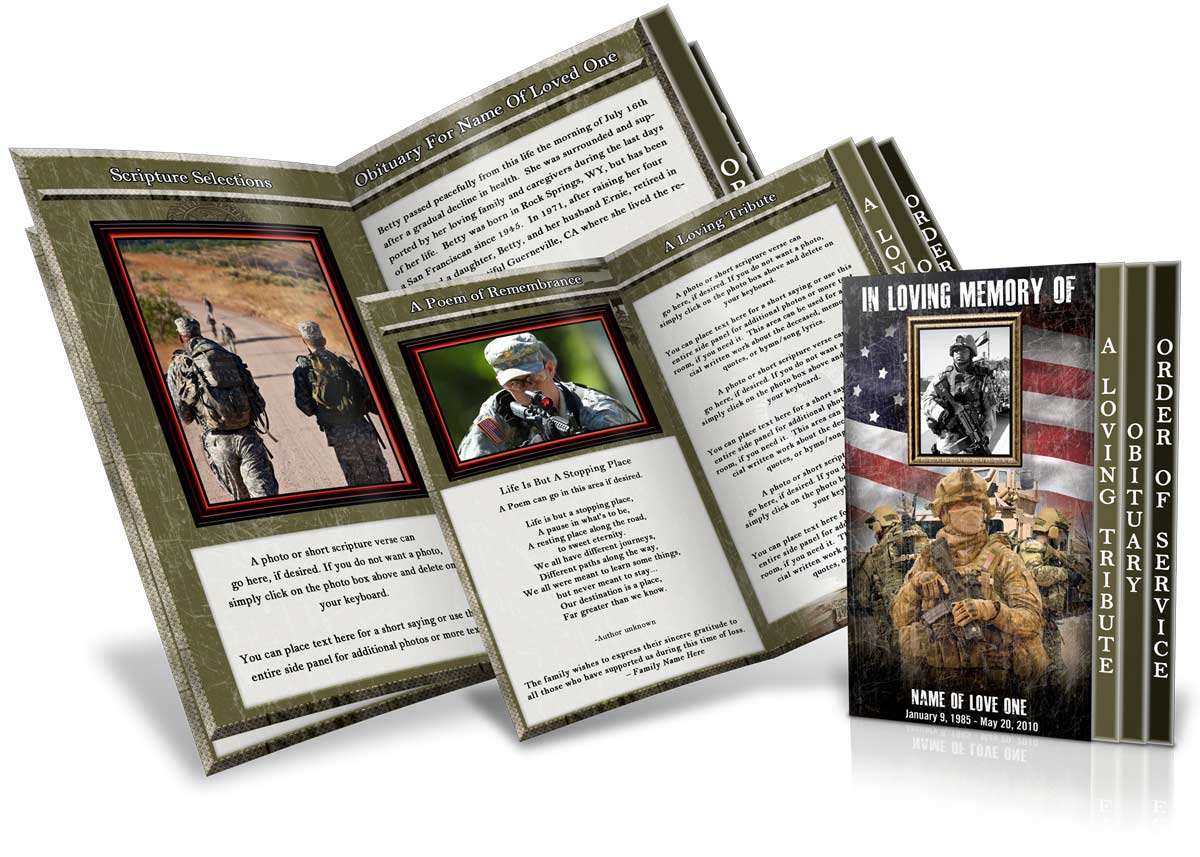 (Funeral Programs)
Creating a Funeral Program is Easy
Our online funeral program template software allows you to easily create 100% custom funeral programs in minutes while still keeping the desired quality. The application allows you to choose from hundreds of background templates we provide and also has the ability to upload your own background of your choice. Unlimited pictures and text boxes can be uploaded or inserted to your project as well and can be dragged and dropped anywhere on the page.
You will love, and most likely be amazed at how easy it is to erase backgrounds from pictures. Simply click on the red button to erase and the green button to restore what you may not have wanted to erase.
The application uses new online HTML5 technology that enables the software to auto-save every change you make to your funeral program. This also means that you can access your project on any computer in the world – Mac or PC so you will never have to download the software.
Create a Custom Funeral Program Online Now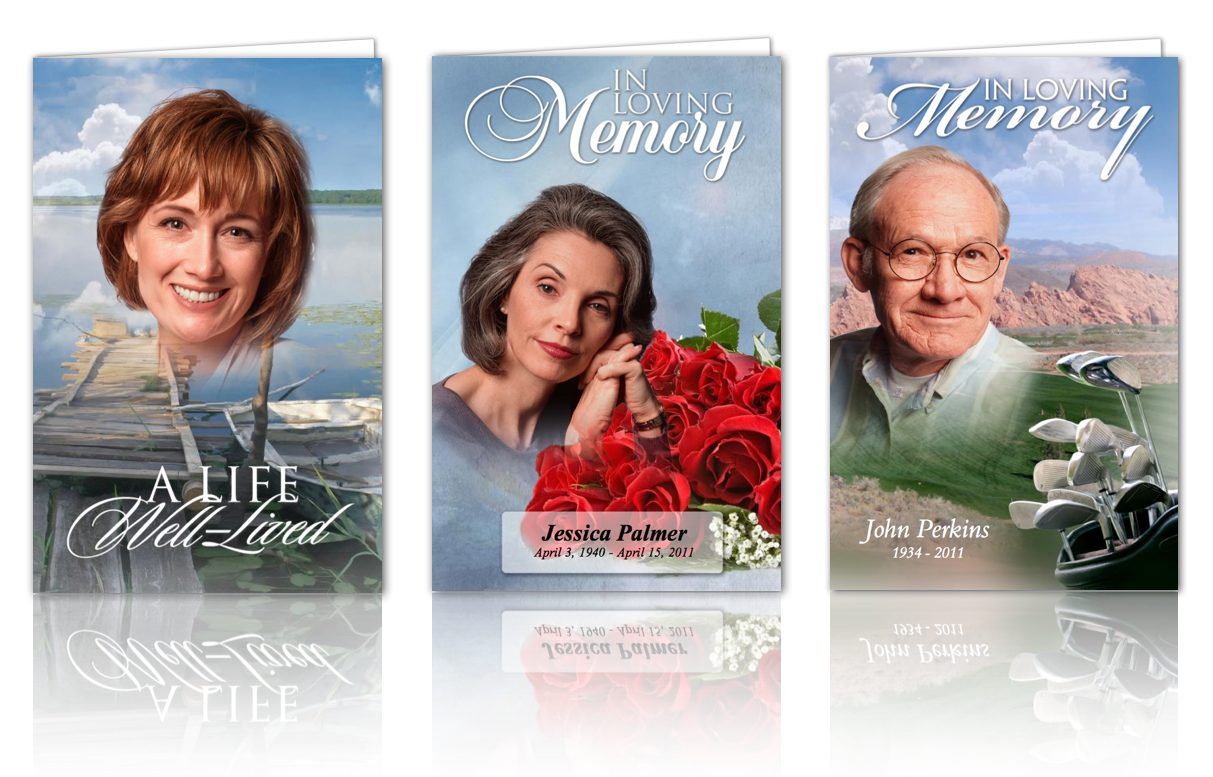 Types of Funeral Programs
Funeral programs come in many different sizes. The most popular sizes are the 1-up (8.5 x 11 sheet of paper folded in half) and 2-up programs (print two programs on an 8.5 x 11 sheet of paper and folded in half). These two different funeral program templates are displayed below. The finished size for the 1-up programs when folded is 5.5 x 8.5 and the finished size for a half page funeral program folded is 4.25 x 5.5. Either size can be created with or without a boarder (this is only an option if you choose to have your product printed at a local printer).
We are confident you will be pleasantly surprised when you use our software to create your funeral program. Enjoy! Please use Live Chat with any further questions. We are happy to help!
Create a Custom Funeral Program Online Now

Before the Funeral: Obituary Writing
Writing your own obituary is not morbid, nor does it hasten death, it's simply a way to make peace with your passing and to make things easier on your loved ones. When you sit down to write your own obituary, you want to keep one thing in mind.Answer the question:
What do I want people to remember about me?
What to Write in Your Own Obituary
There are several ways to go about writing an obituary, but the best way starts with you recollecting events from your life that were meaningful or important to making you the person that you are today.   Here are some tips for writing your own obituary.
Think through and list out your accomplishments
Write out anecdotes of events and happenings in your life
Create a timeline of your life in chronological order so you don't miss anything out
Ask others for their input, it's hard to see all your accomplishments objectively
Read other obituaries for inspiration
Find a recent photo that you'd like to use
Live every day to its fullest so you have lots to write about
Information to Include While Writing Your Own Obituary
Obituaries contain a certain set of facts and stories from your life. Before you write out your own obituary get all the facts together.  Below is a list of facts most commonly included in an obituary:
Full name of the deceased
Date and place of birth
Date and place of death
Surviving Family
Date, time and address of funeral, memorial and burial services
Officiating Clergy
Memorial contributions to be made in lieu of flowers to:
Photo
Cause of Death
Education
Religious Affiliations
Professional Memberships
Participation in local or national organizations
Military Service
Occupation and employment history
Accomplishments, achievements, awards
Publications either written about or by the deceased
Hobbies or Activities
Acts of humanitarianism
Writing Your Own Obituary: A work in Progress
The wonderful thing about writing your own obituary is that you don't actually have to finish it!  If you gather all your information and recollections but don't actually finish writing your own obituary, you'll still be helping your loved ones.  By compiling this and telling your loved ones where the file is, will go a long way to getting an obituary that you would be happy with.  All the information will be close at hand and your loved ones can simply start writing or give it to the funeral director to start writing the obituary.  Just get started today and update it regularly.  Who knows
, it could become part of an autobiography or genealogy project!