Why You Should Buy Memorial Program Templates Online
Funeral program, in many cities and countries, is also known as memorial program. Funeral is the last rites of a person's physical life. For the funeral or memorial event, the lamenting family of the deceased person perform the religious and tradition customs so that the spirit of the deceased can serenely respite in peace. According to man religious books, cremation or funeral is one of the most important occasions.
Almost all the close friends, relatives and neighbors attend the funeral program. At the memorial event, life of a passed away person is celebrated and paid tribute to. Apart from neighbors and relatives, anyone, whoever is closely, emotionally attached to the deceased, can attend the program.
A card is sent to the close friends and relatives of the family to attend the memorial event. This very card is designed very carefully to shower the emotion and to convey the sad news. This card is named as funeral card or memorial card. And just like the sample of every other genre of invitation cards, there are also present samples of memorial card that are pronounced as memorial program template.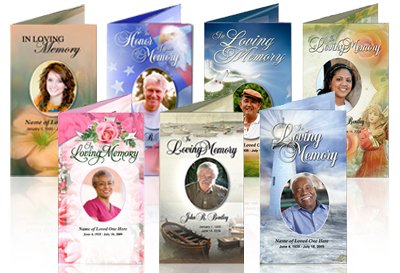 Memorial Cards
Memorial card is rather like bulletin or a booklet that throws light on what events and programs will be taking place at the funeral or memorial event.
There are more than two pages in this booklet or bulletin. They have a cover page, and many inner pages, describing the sequence or order of the programs to be held at the event.
Memorial Card Template –
The template or the sample card or bulletin is referred to as memorial card template. There are two kinds of memorial card samples available; hard copies and digital copies.
Hard copy is the sample card, which you can hold in your hand, and ensure its quality and style for real. It is the best part of hard copy of memorial program template. These are generally available local card shops. To have a look at the quality of the card, you would have to visit your nearest card store, and check through selection of cards one by one.
It seem quite time evolving, doesn't it? Well, the idea of visiting the card shop in your spare time is a good idea, but when you have to make the arrangements for the funeral or memorial program, it is a really bad idea. At first, you will have to visit the store, by compromising other urgent tasks, and then you have to the store's collection, and give them your specifications, and waiting until the next day, to get your cards finally printed. It will waste up a good sum of your important time.
On the other hand, digital copies of memorial program templates offer a great convenience. You do not to sacrifice your important work; you can visit any online store in your free time on your laptop or personal computer. By visiting the site, you can have a look at the entire (or a great) collection of the website or the designer at one glance. They display their products' high quality images in an innovative style so that their customers can sense what this product is about.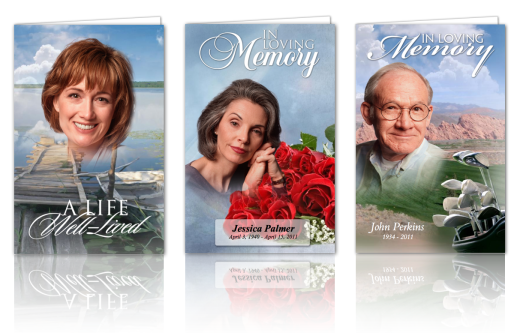 Prefer Buying Memorial Program Template Over The Internet
Internet Is Convenient – It is a universal fact, for today's fast-paced life, traditional means of doing things have become hectic and time taking. People nowadays avoid things that require them to involve their precious time. The emergence of online shopping or eCommerce is the most vital example for my last statement.
When you choose to buy memorial program template from an online store, you actually save your that time, which you would have wasted by visiting your nearby card shop. You can find a good-looking, elegant, appealing, and attractive card on the internet. The best part is, you can edit is right away after downloading it. There are both free and paid templates available on the internet. That too is a great ease. You can edit them, fill them your specifications, and print them, without stepping out from home.
Editing and Modifying too Is Quite Convenient – Usually, there are two options. You can edit the memorial card template on the website itself, or else, you can edit it after downloading it on your computer, on your document editing software, as Microsoft Word, Open Office Editor, PageMaker, etc. (FYI, these editing software applications, too, have their sets of free templates).

A lot of people prefer doing it online, on the website, as they keep on giving suggestions on editing. However, there are many who choose to download the sample first, before editing and finalizing it. It is totally up to you to choose whichever option.
When buying memorial program template, you should check the match and compare the quality of the templates being offered by different websites. It will help you find the best one at best prices.