Funeral Program Template
Funeral program template is a useful and less time-taking way to manage things, when you are not in a condition to manage your things normally, because of the sudden departure of someone, who was close to your heart.
It is the most experienced problem, faced by many people. They feel unable to think properly, how it would be possible for them to arrange the last rites and take care of the mourners, who are visiting the event.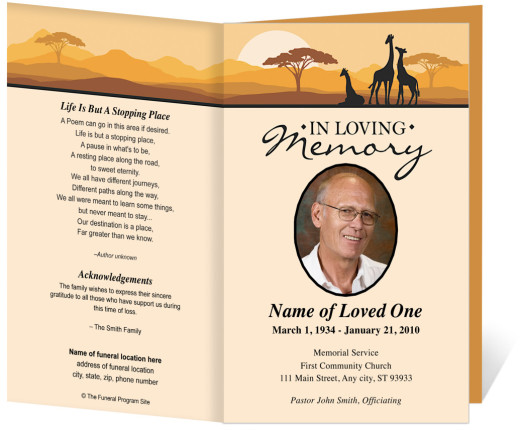 In such scenarios, for this very moment of sadness, using funeral program template will not only lower your stress level, but also it will ease your responsibilities.
Funeral Program Template
A funeral program template is a document, which has been designed to deliver the news or funeral bulletin. The templates are present in various designs, which are great help for people to customize and personalize their desired template.
Even the MS Word, Microsoft Office Word too has its own set of funeral templates that endless people from around the globe are very commonly using.
Funeral program templates offer easy customization, which one can use as per one's individual requirements. These are regular, very common designs, which might seem awkward, after reviewing the final copy of the document.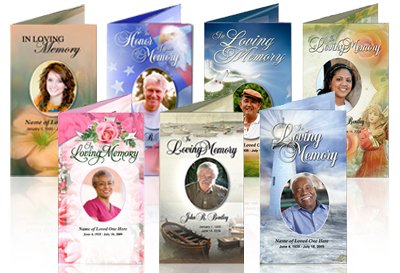 Apart from Microsoft's handpicked templates, there are also available a number of other design houses and card designers that design and develop funeral program templates to those in need. One may hire a design firm or designer to create specific cards and bulletin documents.
One may also find and select one's desired template on the internet, from a website. For this, one needs to search for funeral program template, and this way, one shall be getting a wide range of options to choose from.
Which Option To Choose?
As we have discussed in above droplets of the article, there are so many sources, from where you can pick the funeral program template to deliver to your near ones about the saddened departure of your close-to-heart person.
For this, choosing an over dosed template, which has already been flooded in your city many a times, would be a bad decision.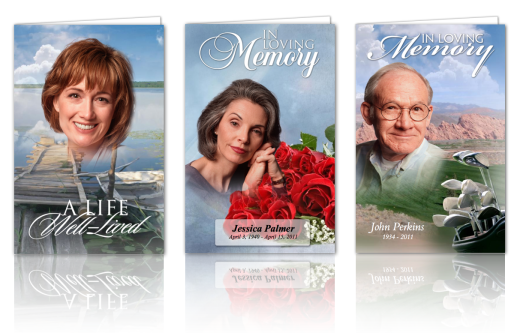 Though Microsoft Word's template are easy to customize; you can select your color, font, font size, etc.; but they all look same and discomfited. What else can you get from a free source?
You can, rather, hire a professional designer (or design house), or go with a website that sells, unique, never-been-used funeral program template. This way, you would get your personalized template, which will be used by you only.
You can ask them put your images, messages, and details about the funeral program of your loved one. Not only it will look good, but also it will mark a good impression on the invitees' mind and heart.
Additionally, choosing to customize funeral program template from a website would be a wise decision. It saves your cost, (though, this is for an occasion, where you should never see your pocket).
It also saves your precious time. Time is the most important aspect and factor, which you can consider when buying funeral program template.
Websites always have hundreds of cards and templates ready for their clients. You need to visit the website. Else wise, you can also consider having a word with the website people. It will help you pick your desired template more easily.It will surely be a less stress to do it online or over the phone call.