A clipart basically is a pre-made image that is used to illustrate any medium. Clipart packages comes in a variety of forms, they can be electronic or can be printed. The use of such images saves the time to prepare a prepare program. They can be prepared by non-artists also!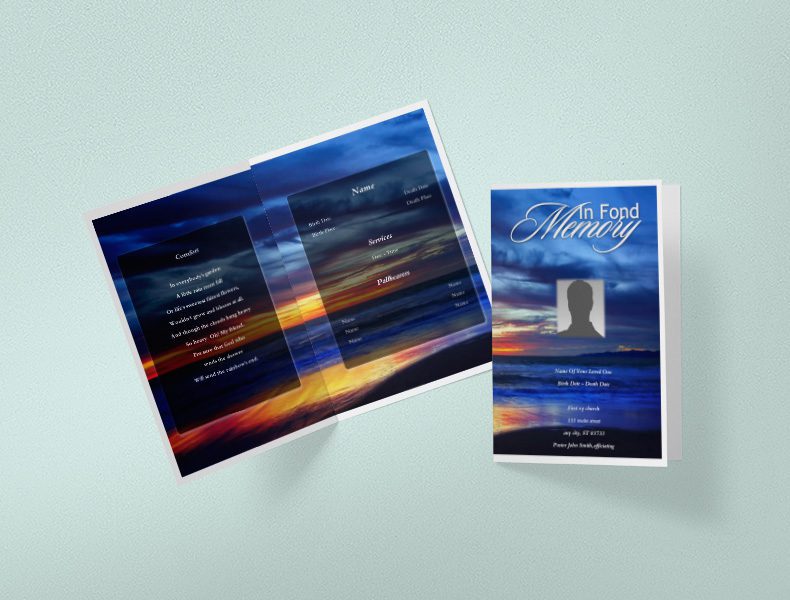 If you are searching for the clipart packages for some funeral program or memorial service, then stop your search here!
We at quickfuneral.com, present you a vast range of clipart packages to utilize in a funeral ceremony. Our clipart packages won't just add a touch of polish to your program yet, in addition, give it a pith of demonstrable skill and excellence.
Burial service Program and Memorial Clipart Packages enable you to make a one of a kind and customized burial service program or commemoration benefit booklet. You can add an innovative touch to your program. Browse blossoms, bundles, religious images, casings and twists to give your program that unique touch.
Blend and match your clipart image from the clipart packages to make the ideal program.
Our new clipart packages are an easy way to do just that—create unique, attractive funeral programs without being a graphic designer.
You haven't thought about the ways clipart borders from these packages can enhance the appearance of your funeral programs.
You can use funeral program clipart borders to give the pages of your programs a more finished, professional appearance.
These new clipart borders for funeral programs are just such a tool—easy to use, simple to customize and very affordable.
A cherishing approach to customize a burial service or remembrance program is by including significant bits of clipart. These designs improve the content and offer an intimate glimpse into the expired individual's life.
The clipart pictures are as often as possibly related to memorials. These pictures can enable you to recognize your cherished one and pass on the amount they will be respected and missed!
Here lies an aesthetic Funeral Template of 8.5″ x 11″ having light shade and appearance. If you are hunting down a clear and alleviate arrange then this one is totally fit for you. It is a single folded burial service template that is covering all the necessary points that has to be in incorporated in memorial service program.
The layout has a flower pattern at the background with a very realistic touch. All the texts, images are changeable here. You can feature your content and just use the way you want using the Microsoft word application.

In the event that you are searching for a light shade layout, at that point your pursuit closes here. It is a diminished shading memorial service program layout that highlights the practical shades of life. The nature of the format is quite recently marvelous and solid having a 8.5″ x 11″ design. The diminish shade of this Funeral Program Template is engrossing the consideration.

The regular focuses immersing everywhere throughout the organization has breathe life into the format for remembrance benefit. We can adjust the shading plans likewise to coordinate the inclinations of the life of a perished one. Utilize this one for offering tribute to your cherished one's as the substance boxes are completely modifiable.

Unobtrusively report the death of a friend or family member with this Funeral Program Template. It occupies an estimation of 8.5" x 11". Textual styles and hues are variable, and the entire look might be improved to an all-around enriched tribute with fringes, photograph arrangements, and line designs.

Include insights about the episode utilizing altering instruments accessible on our Funeral Program Template site and offers this one final support of the individual you have lost until the end of the time.

An unprecedented astounding perspective of a format with a measure of 8.5" x 11", keeping in mind the end goal to give tribute somebody who has been passed away. The wonderful design of this Funeral program template with the excellent sea portrays the sentiment profound distress on remembering the cherished ones. It likewise demonstrates the oblivious to human feelings.

The back of the funeral program template proceeds with a comparable foundation angle outline with white straightforward excessively that is ideal for a ballad or short tribute/life story. Utilize our remarkable format for any funeral program occasion .All the boxes given are modifiable.

Here is a stunning perspective of the Funeral Program Template that portrays the religious topic of an entombment benefit program. The format is covering a region of 8.5″ x 11″.The yellow light of the flame symbolizes the confidence that you are communicating simultaneously. A lit flame can interface the physical world with the profound domain.

Don't hesitate to utilize this format as it is adjustable, the writings and pictures can be modified by you. We additionally give full client bolster on the off chance that you discover any trouble while utilizing these stunning layouts.

The primary hues for this Funeral Program Template are light golden tints. The back of the burial service Program layout proceeds with an organizing flower foundation outline with beige excessively that is ideal for a sonnet or short eulogy/memoir. The layout is possessing a measurement of 8.5" x 11".

Within shows a complimentary foundation flanked plan which can show the memorial service program request of administration, verse, or finished burial service eulogy. To alter the intro page title, expel our title picture, make a content box and utilize your own textual styles.

The main color of the Funeral Program Template is sky blue and white conveying an estimation of 8.5" x 11". The layout offers a transparent overlay at the back that is containing the commemoration benefit verse. Your adored one's photograph will be shown on the roundabout casing at the front.

The internal of the format proceeds with a complement of angle shading that is having the tribute content .Replace it with your own content and use in the dedication benefit program.

A beautiful 8.5 x 11 Funeral Program template called "Cloud Land Funeral Program Template". This bi-fold Cloud Land Funeral Program Template contains beautiful cloudy weather and green land  background which gives an appealing look to printable bifold funeral program.

No Limitation on Content, Edit anything
Edit anytime – unlimited revisions even after purchased
Get printable PDF downloaded to get it printed your own

This Cloud Land Funeral Program Template contains 1 folds with 4 editable and printable sides where you can add your own content such as order of service details and other funeral service details.

There is space to add your family photos to make it more attractive.

A dazzling Funeral Program Template 8.5" x 11" that presents clouds in the bottom resembles the wispy twists of hair. Clouds are emblematically connected with the enthusiastic conditions of the brain, physical conditions of the world and the conditions identified with life.

On the other hand, portray of Lord Jesus at the top right of this amazing template describes the blending of god with humankind. The hugeness of this is significant and will take all endlessness for us to appreciate.

The background of this Funeral Program Template proceeds with the beautiful sky blue color that bears a resemblance to a cloudless precious stone, clear and sparkling. Utilize this program for any occasion or event, all content boxes are completely editable.

Burial service Program Template assumes an essential part in the recognition program of your adored one that has been withdrawn from the world. The layouts are circulated to every one of the individuals show over the commemoration benefit .This Funeral Program Template measures 8.5″x 11″ having a light shade. The utilization of diminish light demonstrates the religious subject fused in it.

At the internal side of this design, there is space to embed the name with birth-demise dates of the dead one's. In the wake of altering the content, these layouts and can be downloaded.

On the off chance that you might want a more formal, lengthier memorial service program, then this given Funeral Program Template serves its best. The layout has a measurement of 8.5" x 11". It is a single folded burial service template that is covering all the necessary points that has to be in incorporated in memorial service program.

We offer proficient quality programs in which the texts, images can be personalized using the Microsoft word application .Use this layout in remembrance program of the perished one's.