Funeral Programs
It is claimed that arranging a funeral is comparable to planning a wedding, only it's on the opposite side of the spectrum. People normally don't anticipate arranging a funeral service, but there are some things that must be done once the time comes. In this moment of grief and bereavement, it is imperative that you keep the planning process as stress-free and easy as possible. At the same time, family and friends wish to give the deceased a good and wonderful send off. Some funeral homes include the creation of funeral programs within their service. Individuals also have the option to generate funeral programs on their own using templates available online or using software programs available for this reason. If they have a color printer at home, they can print the funeral bulletins themselves. Otherwise, they can take the files to a skilled printer.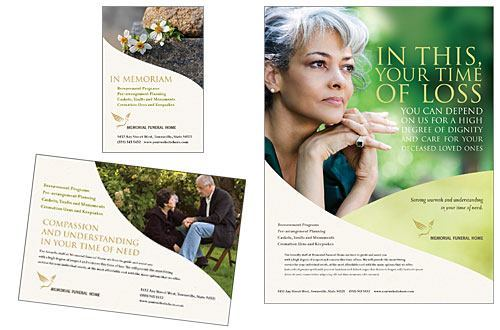 As with weddings, the program is a valuable part of the funeral. Planners take particular care in picking the flow for the service, such as the music and psalms to be used. Funeral programs, also known as funeral bulletins, memorial service programs or obituary programs, function as a guide for the service and help guests value the service more. Templates for memorial bulletins include different themes and styles. Many designs are universal enough that it doesn't matter what religion the funeral service is in. This makes it simple to find a template to match any user. There isn't a typical length or amount of pages for a funeral bulletin, so it could be as quick or extensive as one wants.
A memorial service will be held "Day of Week, Month Date, Year" at "Time" and "Place".
In general, the ability to do fast and simple modification is what makes templates for funeral programs useful and economical. Some are so convenient to use that one only has to decide on a design and supply a photo and the name of the loved one. Others allow users to substitute their own text or wordings anywhere on the template. At the minimum, memorial bulletins consist of the program for the memorial service and can include the lyrics for the hymns and songs to be used so that attendees can join in the singing. It may additionally contain details about the departed including the obituary and life photos. Many funeral service programs have personalized touches that reveal the personality, character and interests of the departed.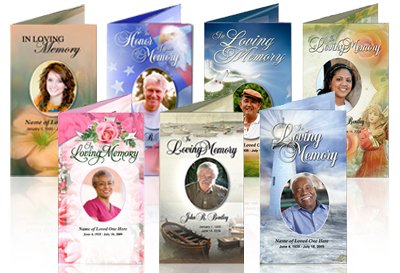 People are not really provided lots of time to prepare a funeral, so anything that helps make the task simpler and go quicker is welcomed indeed. Using funeral program software or templates is among those things. The end result is simple but has a lot of impact on funeral guests. It's also a loving honor so that those left behind may enjoy the life lived by their deceased loved ones. More than a guide, funeral programs can serve as keepsakes of a loved one's life. Using templates, it is easy enough to generate mementos that show the personality, character and passions of the deceased. This is an easy remembrance that can be held in loving memory of the deceased, treasured for years to come.