Funeral Program Template
What Is Funeral Program Template?
After the sudden death of their loved one, people invite their friends, relatives, and other near and dear ones at the funeral or the last rites of the person who has left. The (invitation) card or letter is often named as funeral card.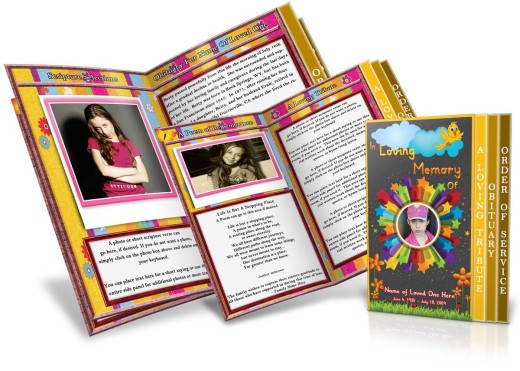 Funeral card, just like any other genre of invitation card before finally getting printed is called sample funeral card or funeral program template.
Funeral cards are bad news bearers, therefore, their being simple is one of the key essential points, when you are about to design such card.
Sample funeral cards can be found at various software programs, including Microsoft Office, Page Maker, Outlook, and other writing and emailing applications.
They come free with the software package, and anyone can use them for his/her own purposes. On the other hand, there are great many websites, offering unique, appealing, interesting, and elegant funeral program templates at nominal rates.

The Difference Between Free & Paid Templates
Most people are easily attracted towards the word 'free', as it is coming their way free of cost. Free or royalty free things, goods and services are always of cheap quality.
If not cheap, in the world of gadgets and gizmos, the word 'free' denotes limited versions. Free funeral templates come with limitations in design. They later on become a mess when they are being optimized.
In the subsections below, I have tried to bring it into your notice that free funeral program templates are not worth using –
Limited – As I have discussed it before, free templates come with boundaries. If you have used them, you know their constraints. When try to edit them, they create problems. Either they do not have interactive design, or they have do not support too much personalization. When you try to edit them, insert your desired pictures, they fail to give impressive look. Additionally, if they look attractive, even after making desired modifications, they ask payment for downloading or printing the card.
Very Simple – Though funeral card templates should be elegant and simple, but they do not act and look so simple that they fail to impress the recipients. Free samples or templates are very simple in design; they hardly have any attractive side. You can not even alter their color theme to make to make them a bit more attractive.
Lack of Space – Another problem faced while optimizing free funeral program template! You can not fill in all the information in the provided space. However, there are some free templates available that enable users to add more pages and features in the card.

Repeated Design – Free samples are always overly used and distributed. The same story goes with funeral program templates too. The free templates have been utilized thousands of time. It would be really an awkward moment to see the funeral bulletin, of someone, close to you, in a repeated design. A majority of people goes with free templates, now it is up to you to decide, whether you want the free one or paid one.
Paid templates are worth buying, as they have fresh designs, they have been designed by experienced graphic designers, they have a unique, appealing and simple design, and they are not that costly. Moreover, you can check out the template right away by visiting the site, and by signing up to that website, you can design and download your card in just a few clicks. While downloading or saving your edited funeral program template, you will be asked to pay the fee. Furthermore, it seems far easy and less time taking than visiting your local card shop, doesn't it?