Confronting the assignment of arranging a friend or family member's burial service, and not certain whether to print the projects yourself or have a print shop outline and print them? There are really some great motivations to utilize printable funeral programs as opposed to paying a print shop to take the necessary steps. How about we take a gander at why printable funeral programs formats bode well for a great many people.
Here lies an aesthetic Funeral Template of 8.5″ x 11″ having light shade and appearance. If you are hunting down a clear and alleviate arrange then this one is totally fit for you. It is a single folded burial service template that is covering all the necessary points that has to be in incorporated in memorial service program.
The layout has a flower pattern at the background with a very realistic touch. All the texts, images are changeable here. You can feature your content and just use the way you want using the Microsoft word application.

In the event that you are searching for a light shade layout, at that point your pursuit closes here. It is a diminished shading memorial service program layout that highlights the practical shades of life. The nature of the format is quite recently marvelous and solid having a 8.5″ x 11″ design. The diminish shade of this Funeral Program Template is engrossing the consideration.

The regular focuses immersing everywhere throughout the organization has breathe life into the format for remembrance benefit. We can adjust the shading plans likewise to coordinate the inclinations of the life of a perished one. Utilize this one for offering tribute to your cherished one's as the substance boxes are completely modifiable.

Searching for a Bible Funeral Program Template that is easy to print and amass and that has a cutting-edge look? Bible Funeral Program Template Letter Size is the Perfect decision that is having a measure of 8.5"x 11".

No Limitation on Content, Edit anything
Edit anytime – unlimited revisions even after purchased
Get printable PDF downloaded to get it printed your own

Searching for a Bike Ride Funeral Program Template that is easy to print and amass and that has a cutting-edge look? This Bike Ride Funeral Program Template Letter Size is the Perfect decision that is having a measure of 8.5"x 11".

No Limitation on Content, Edit anything
Edit anytime – unlimited revisions even after purchased
Get printable PDF downloaded to get it printed your own

Unobtrusively report the death of a friend or family member with this Funeral Program Template. It occupies an estimation of 8.5" x 11". Textual styles and hues are variable, and the entire look might be improved to an all-around enriched tribute with fringes, photograph arrangements, and line designs.

Include insights about the episode utilizing altering instruments accessible on our Funeral Program Template site and offers this one final support of the individual you have lost until the end of the time.

An unprecedented astounding perspective of a format with a measure of 8.5" x 11", keeping in mind the end goal to give tribute somebody who has been passed away. The wonderful design of this Funeral program template with the excellent sea portrays the sentiment profound distress on remembering the cherished ones. It likewise demonstrates the oblivious to human feelings.

The back of the funeral program template proceeds with a comparable foundation angle outline with white straightforward excessively that is ideal for a ballad or short tribute/life story. Utilize our remarkable format for any funeral program occasion .All the boxes given are modifiable.

Searching for a Blue Ocean Funeral Program Template that is easy to print and amass and that has a cutting-edge look? Blue Ocean Funeral Program Template Letter Size is the Perfect decision that is having a measure of 8.5"x 11".

No Limitation on Content, Edit anything
Edit anytime – unlimited revisions even after purchased
Get printable PDF downloaded to get it printed your own

Here is a stunning perspective of the Funeral Program Template that portrays the religious topic of an entombment benefit program. The format is covering a region of 8.5″ x 11″.The yellow light of the flame symbolizes the confidence that you are communicating simultaneously. A lit flame can interface the physical world with the profound domain.

Don't hesitate to utilize this format as it is adjustable, the writings and pictures can be modified by you. We additionally give full client bolster on the off chance that you discover any trouble while utilizing these stunning layouts.

The primary hues for this Funeral Program Template are light golden tints. The back of the burial service Program layout proceeds with an organizing flower foundation outline with beige excessively that is ideal for a sonnet or short eulogy/memoir. The layout is possessing a measurement of 8.5" x 11".

Within shows a complimentary foundation flanked plan which can show the memorial service program request of administration, verse, or finished burial service eulogy. To alter the intro page title, expel our title picture, make a content box and utilize your own textual styles.

Searching for a Celtic Irish Green Funeral Program Template that is easy to print and amass and that has a cutting-edge look? Celtic Irish Green Funeral Program Template Letter Size is the Perfect decision that is having a measure of 8.5"x 11".

No Limitation on Content, Edit anything
Edit anytime – unlimited revisions even after purchased
Get printable PDF downloaded to get it printed your own

The main color of the Funeral Program Template is sky blue and white conveying an estimation of 8.5" x 11". The layout offers a transparent overlay at the back that is containing the commemoration benefit verse. Your adored one's photograph will be shown on the roundabout casing at the front.

The internal of the format proceeds with a complement of angle shading that is having the tribute content .Replace it with your own content and use in the dedication benefit program.
Printable Funeral Programs are just present day leaflet configuration to be utilized with Photoshop CS3 and higher. Spare your opportunity and utilize it for business or for your customers! This can be utilized for Memorial Program, Funeral Program, Obituary Program, Church Event, Pastor Anniversary or Hope Pastor Appreciation and others.
Printable Funeral Programs are Easily Found on the Internet
There are a couple of times more distressing than the days following the death of a friend or family member. Straightforwardness part of the burial service arranging worry with a basic web scan for "printable funeral programs." You'll discover an assortment of dedication program and remembrance layouts accessible and can rapidly pick the ones most fitting to the person who has kicked the bucket.
Printable Funeral Programs are Affordable
By utilizing a layout accessible online to make and get your printable funeral programs, the administrations of a print shop aren't required, enabling you to spare cash on definite costs. Another preferred standpoint is having the capacity to print just the same number of as you'll really require for those going to the burial service, instead of paying for a base print run. These particular profits are accessible and burial service costs are being paid by the family.
Anybody with Fundamental Computer Skills Can Make Printable Funeral Programs
On account of the adaptability of the layouts and instruments accessible for making memorial service programs, practically anybody can plan and print them. Some printable funeral programs online are as downloadable formats, to finish and print from your own particular PC. You may likewise utilize on the web, 'usable' layouts to finish and print straightforwardly from a site. In any case, you're guaranteed an expert, modified memorial service keepsake by utilizing essential PC abilities. Many formats are accessible in programming programs that are broadly accessible and simple to utilize, for example, Microsoft Word, Publisher, and MAC Pages. There are additionally numerous assets accessible to help you with finishing your printable funeral programs, for example, guideline sheets and recordings.
Printable Funeral Programs are Customizable
Nobody needs to recognize the life of a friend or family member with a 'bundled' token. By utilizing the burial service program layouts accessible on the web, you can choose text styles, groups, shading plans, illustrations to make an interesting tribute to a companion or cherished one. You can likewise include remembrance clipart and favor titles for an additional layer of personalization. Another prominent component is the capacity to embed photographs and commemoration photograph compositions into the layouts, bringing about a considerably more customized remembrance.
Printable Funeral Programs Can be used on Windows or Mac Computers
The present printable Funeral programs come in more than one organization with the goal that a particular PC working framework isn't required to utilize them. Regardless of whether your PC keeps running on Windows or Mac OS, you'll have the capacity to discover a memorial service token format intended for that framework.
Outlining and making an exceptional memorial service program for a companion or adored one needn't add to your burial service arranging stress. By utilizing the present printable funeral programs, effortlessly discovered on the web, to build up the last token, you will spare time, cash and stress. Exploit these effectively accessible and reasonable devices to rapidly plan and get the printable funeral programs. When you do, you'll have more opportunity to impart recollections to companions and friends and family and pay tribute to the person who has passed.
Printable funeral programs are an awesome approach to pay tribute to a friend or family member by giving an enduring remembrance. We are committed to ensuring our clients are given a tranquil involvement with their printable funeral programs, which can be effectively altered through Microsoft Word and imprinted in boundless amounts at an exceptionally moderate cost. These excellent printable funeral programs formats might be disseminated at the burial service to furnish participants with a dedication remembrance of the perished adored one.
The formats may likewise be utilized as dedication programs or potentially for a remembrance benefit. Look at our flawless determination of memorial service programs in our store.
We offer delightful printable funeral programs for moment download at a low cost. Every last one of our memorial service program formats are made with a one of a kind outline comprising of fantastic shading composed spreads and inside pages. The inside pages of every burial service handout contain a eulogy layout and a request of administration format; in any case, you may change the substance as indicated by your requirements.
Our printable funeral programs are made simple to alter through Microsoft Word®. After acquiring a Single Fold, Graduated 2 Step, Graduated 4 Step Programs, Gatefold, College Tri-Fold Brochure, or Funeral Card; you may quickly download your layout. You may then effectively alter/modify and print the same number of funeral program formats as you require!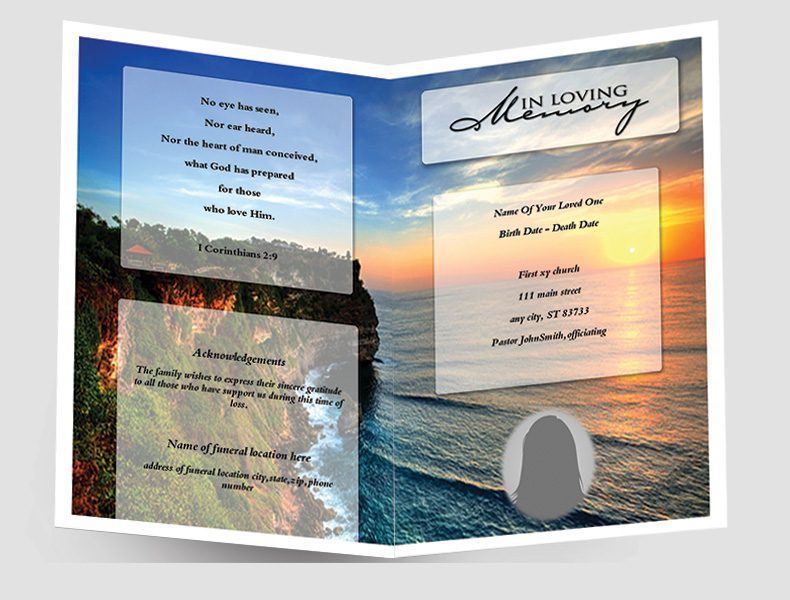 How to make Printable Funeral programs
Some General instructions are enlisted for printing your funeral programs:-
Pick your plan.
Tap on your preferred plan, and it will start downloading.
Open the document.
Alter the archive with your own data.
Swap out photographs.
Allude to your printer manual for twofold sided printing guidelines.
Creating Printable Funeral Programs is Easy!
Our online funeral program template software allows you to easily create 100% custom funeral programs in minutes while still keeping the desired quality. The application allows you to choose from hundreds of background templates we provide and also has the ability to upload your own background of your choice. Unlimited pictures and text boxes can be uploaded or inserted to your project as well and can be dragged and dropped anywhere on the page.
You will love, and most likely be amazed at how easy it is to erase backgrounds from pictures. Simply click on the red button to erase and the green button to restore what you may not have wanted to erase.
The application uses new online HTML5 technology that enables the software to auto-save every change you make to your printable funeral program. This also means that you can access your project on any computer in the world – Mac or PC so you will never have to download the software.
Utilize our Services for getting Printable Funeral Programs at the same day!
We comprehend that circumstances can come up quick and we're prepared to work with you to complete your imprinting in time. We will do our best to print it and get conveyed to you same day. Simply make a point to give your right address/contact subtle elements.
We offer predominant printing administrations for all our different size burial service programs, notes to say thanks, commemoration bookmarks, and supplication cards. We fastidiously collect and deliver our projects and cards in idealize frame. Since we regard each printing activity as though we were setting it up for our own particular family, you can make certain the projects we print and convey to you will be of the most noteworthy quality. We have practical experience in printing memorial service programs!
Funeral Templates are medium to start putting your information in standard way and start downloading and producing printable funeral programs at your home. You will have both options to either print yourself or send an order to us than we will print and send back to you.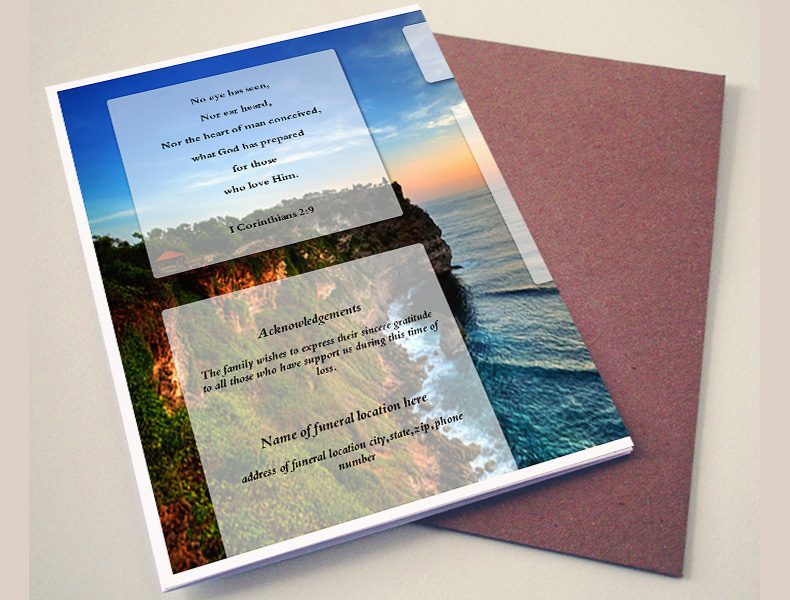 Funeral Templates available at QuickFuneral.com are low in cost and ready for unlimited edits and prints.
Download memorial service formats to produce your printable funeral programs on the off chance that you are under a period limitation. You simply need to alter them with your own particular data.
When you have finished with the decision of layout, assemble the related data, you need to get your printable funeral programs now. The printing can be made independent from anyone else at home utilizing your nearby printer. You can likewise go to some duplicate shop for printing a burial service leaflet.
To achieve your printable funeral programs, picking your Personal Computer can be a superior thought, as it is cost and efficiency.
For getting your printable Funeral programs at home; right off the bat picks the paper quality in which you need to print. The heavier the paper, the harder it is and the less light will experience it. Whatever paper you use, guarantee your home printer can manage it.
Also, the printer decision that prompts printable funeral programs must be taken with care. Today, most breakthrough home printers, both laser, and inkjet can deliver quality designs.
Likewise, you should guarantee your printer has the ideal measure of paper and ink before you start printing. Remember the cost of ink can be expensive, so measure all the cost decisions beforehand.
The choice of Paper –Printable Funeral Programs
Did you understand that the kind of paper you use to go your printable funeral programs majorly affects their appearance and quality? That is the reason it's so basic to know the particular sorts of paper that work best to print entombment benefit keepsakes. Here's a speedy agenda for picking the correct sort of paper for your outlines.
Printable Funeral Programs are Lovely and Professionally Made!
The immense thing about these formats is that they are delightful, as well as they are professionally made also, mirroring the magnificence of the life that was. You simply need to spend a couple of minutes in altering the layout and adding essential points of interest to it. You can likewise incorporate photographs of the perished, a foundation picture and different plans to make the program to look considerably more respectable. These printable funeral programs layouts enable you to spare a considerable measure of time in your memorial service readiness. Since you don't have to invest more energy in making the program, you can put your attention on other essential things.
Moderate yet Professional –Printable Funeral Programs
Many individuals would utilize the printable funeral programs layouts for spending reasons. In any case, this does not imply that the projects are modest looking. Truth be told, they look proficient, like those projects done by proficient printing organizations. The cash that you can spare by utilizing the free layouts can be utilized to spend for more vital stuff, for example, the blooms for the administration, coffin, memorial service charges and some more.
Time may pass and blur away however their recollections will dependably remain. Give your left cherished one an honorable tribute that will touch hearts. Commend their brilliant voyage in life and respect their adoring memory. Our inspiring remembrance program includes a variety of themes that you can alter and get printable funeral programs in minutes so you can in a flash disseminate them to your visitors.
Regardless of whether you need a straightforward outline for your burial service program or maybe a program that is loaded with pages and brimming with designs and hues, the free printable funeral programs layout are genuinely a major help. It memorializes your cherished one's existence without investing loads of energy and cash.
Since they are printable funeral programs, you may print loads of in the event that you'd like to, at whatever point you'd like to. That is one in each of the upsides of doing them yourself verses enlisting a printer to attempt and do thusly or an asset that offers preprinted cards.
You can utilize the layout various circumstances and on the same number of PCs as you might want.
All printable funeral programs take different length depending upon who is coordinating the capacity or who has passed away. Undertakings are arranged contrastingly depending upon what should potentially be possible. You may have gotten a test at one time while setting up a printable funeral program.