Memories by Funeral Programs
So, why Memories by Funeral Programs ? Funeral is a customary activity or ceremony to any culture when a person passes away. The purpose of this is to celebrate, give respect, as well as sanctify and even remember the life of someone who just died. In different countries, funeral customs vary significantly, depending on the cultural and religious practices of the people in that particular place. As time passes by, doing this becomes even more modern. The Memories by Funeral Programs, Before, prayers and rituals are the ones that people do, but today, this may now involve having memorial prayer cards and other memorabilia.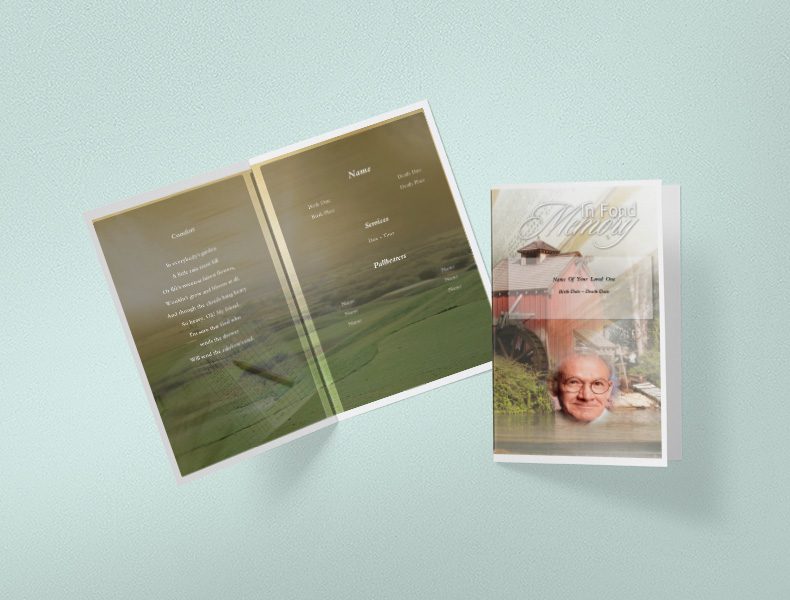 People have an unlimited creativity and imagination. This is even when showing their respect, affection and adoration towards other people. Now, funeral paraphernalia has been modernized and more contemporary in order to catch the interest of the people.
For instance, there are already some people who create t-shirts with the picture of the person who passes away on it, as well as button pins and other "souvenirs." Moreover, among these things that you can also try to make the interment of your loved one more intimate and personal include prayer cards or even programs, through funeral memorial templates.
What are Funeral Programs?
A funeral program is like any kind of program that refers to the flow of a ceremony. It is usually in a piece of paper in various sizes. Depending on the contents, it could in the full A4 size, half bond paper or as small as a size of business card.
Usually, what the program contains is the list of the people who will give testimonials about the person who died. It may also contain some details about the deceased, its achievements, as well as interests and other highlights when he or she was still living. Today, there are already various kinds of template for a funeral program that you can use.
Various Memorial Programs Templates
There are already some online service providers that can offer you different templates for your interment program.
You can choose funeral programs template that will look sporty if it is the interest of the person or you can make it more formal like a business program. There are also other templates that you can consider like those nature-inspired, religious-themed, floral, spiritual, as well as those with various textures and other designs. You can further customized it in order to fit to the character of the person whom you are dedicating this.
Here lies an aesthetic Funeral Template of 8.5″ x 11″ having light shade and appearance. If you are hunting down a clear and alleviate arrange then this one is totally fit for you. It is a single folded burial service template that is covering all the necessary points that has to be in incorporated in memorial service program.
The layout has a flower pattern at the background with a very realistic touch. All the texts, images are changeable here. You can feature your content and just use the way you want using the Microsoft word application.

In the event that you are searching for a light shade layout, at that point your pursuit closes here. It is a diminished shading memorial service program layout that highlights the practical shades of life. The nature of the format is quite recently marvelous and solid having a 8.5″ x 11″ design. The diminish shade of this Funeral Program Template is engrossing the consideration.

The regular focuses immersing everywhere throughout the organization has breathe life into the format for remembrance benefit. We can adjust the shading plans likewise to coordinate the inclinations of the life of a perished one. Utilize this one for offering tribute to your cherished one's as the substance boxes are completely modifiable.

Searching for a Bike Ride Funeral Program Template that is easy to print and amass and that has a cutting-edge look? This Bike Ride Funeral Program Template Letter Size is the Perfect decision that is having a measure of 8.5"x 11".

No Limitation on Content, Edit anything
Edit anytime – unlimited revisions even after purchased
Get printable PDF downloaded to get it printed your own

Unobtrusively report the death of a friend or family member with this Funeral Program Template. It occupies an estimation of 8.5" x 11". Textual styles and hues are variable, and the entire look might be improved to an all-around enriched tribute with fringes, photograph arrangements, and line designs.

Include insights about the episode utilizing altering instruments accessible on our Funeral Program Template site and offers this one final support of the individual you have lost until the end of the time.

An unprecedented astounding perspective of a format with a measure of 8.5" x 11", keeping in mind the end goal to give tribute somebody who has been passed away. The wonderful design of this Funeral program template with the excellent sea portrays the sentiment profound distress on remembering the cherished ones. It likewise demonstrates the oblivious to human feelings.

The back of the funeral program template proceeds with a comparable foundation angle outline with white straightforward excessively that is ideal for a ballad or short tribute/life story. Utilize our remarkable format for any funeral program occasion .All the boxes given are modifiable.