Memorial keepsakes given to mourners at a funeral serve to provide a tangible memento to not only remember a loved one, but also to remind us of the personal and special qualities that made our loved one unique.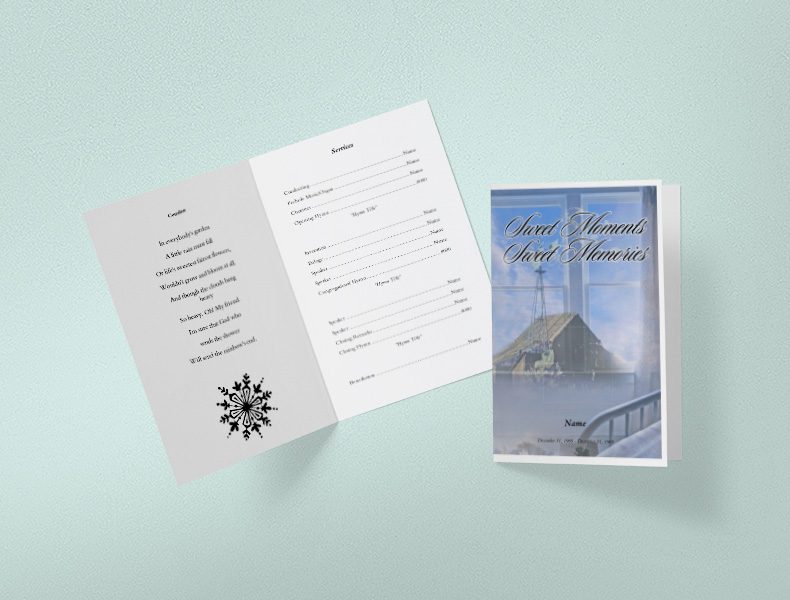 Keepsakes, reminders of a person, place, or time, gain meaning through their associations. Funeral keepsakes, reminders of a loved one who has passed on, are infused with meaning through their association with the memories of a lifetime.
Although you might not think of a funeral as an occasion for sharing keepsakes, it is a perfect opportunity to create mementos that bear the stamp of a unique individual. Just as you might save a flower from your wedding bouquet or your child's first drawing, simply because of their poignancy, you might also choose have keepsakes created and distributed during a funeral or memorial service.
The keepsakes can then be out on display in a home or tucked away to pass down through the generations. These special items that remind you, and everyone, of one special person who is no longer with you.
Many items are suitable for keepsakes to personalize and share. Candles, with their soft glow and quiet, flickering flames, can add warmth to a funeral service. Afterward, they can be displayed and used as a memorial keepsake.
Funeral candle holders designed to accept personalization often feature wooden bases and four glass panels. Paper or card-stock inserts, printed with meaningful text and photos, are slipped into the panels. When the candles are lit, the inserts are beautifully backlit, highlighting the pictures and text.
If you have a practical nature, you might decide to personalize small items that the bereaved will use regularly. Bookmarks and prayer cards all lend themselves to personalization. Remembrance ornaments are an especially effective way to remind everyone of your loved one during the holidays.
Additionally, funeral programs, featuring a photo, along with text, prose, poetry or special prayers, can serve as keepsakes in themselves, or place them in small frames to create a more lasting tribute.
If you choose, coordinate your funeral keepsakes with other funeral stationery such as the funeral register book, memorial folders and thank-you cards. Use the same theme elements and photos on the keepsakes, and choose to imprint everything with a signature phrase that characterizes your loved one best.
Conversely, your keepsakes might be completely different from your other stationery items, designed expressly as stand-alone gifts for every one to cherish. You might choose to distribute them after the funeral service, for example, and let them illustrate your loved one's sense of humor or whimsy, as a fitting way to say a final goodbye.
Here lies an aesthetic Funeral Template of 8.5″ x 11″ having light shade and appearance. If you are hunting down a clear and alleviate arrange then this one is totally fit for you. It is a single folded burial service template that is covering all the necessary points that has to be in incorporated in memorial service program.
The layout has a flower pattern at the background with a very realistic touch. All the texts, images are changeable here. You can feature your content and just use the way you want using the Microsoft word application.

In the event that you are searching for a light shade layout, at that point your pursuit closes here. It is a diminished shading memorial service program layout that highlights the practical shades of life. The nature of the format is quite recently marvelous and solid having a 8.5″ x 11″ design. The diminish shade of this Funeral Program Template is engrossing the consideration.

The regular focuses immersing everywhere throughout the organization has breathe life into the format for remembrance benefit. We can adjust the shading plans likewise to coordinate the inclinations of the life of a perished one. Utilize this one for offering tribute to your cherished one's as the substance boxes are completely modifiable.

Searching for a Bible Funeral Program Template that is easy to print and amass and that has a cutting-edge look? Bible Funeral Program Template Letter Size is the Perfect decision that is having a measure of 8.5"x 11".

No Limitation on Content, Edit anything
Edit anytime – unlimited revisions even after purchased
Get printable PDF downloaded to get it printed your own

Searching for a Bike Ride Funeral Program Template that is easy to print and amass and that has a cutting-edge look? This Bike Ride Funeral Program Template Letter Size is the Perfect decision that is having a measure of 8.5"x 11".

No Limitation on Content, Edit anything
Edit anytime – unlimited revisions even after purchased
Get printable PDF downloaded to get it printed your own

Unobtrusively report the death of a friend or family member with this Funeral Program Template. It occupies an estimation of 8.5" x 11". Textual styles and hues are variable, and the entire look might be improved to an all-around enriched tribute with fringes, photograph arrangements, and line designs.

Include insights about the episode utilizing altering instruments accessible on our Funeral Program Template site and offers this one final support of the individual you have lost until the end of the time.

An unprecedented astounding perspective of a format with a measure of 8.5" x 11", keeping in mind the end goal to give tribute somebody who has been passed away. The wonderful design of this Funeral program template with the excellent sea portrays the sentiment profound distress on remembering the cherished ones. It likewise demonstrates the oblivious to human feelings.

The back of the funeral program template proceeds with a comparable foundation angle outline with white straightforward excessively that is ideal for a ballad or short tribute/life story. Utilize our remarkable format for any funeral program occasion .All the boxes given are modifiable.

Here is a stunning perspective of the Funeral Program Template that portrays the religious topic of an entombment benefit program. The format is covering a region of 8.5″ x 11″.The yellow light of the flame symbolizes the confidence that you are communicating simultaneously. A lit flame can interface the physical world with the profound domain.

Don't hesitate to utilize this format as it is adjustable, the writings and pictures can be modified by you. We additionally give full client bolster on the off chance that you discover any trouble while utilizing these stunning layouts.

The primary hues for this Funeral Program Template are light golden tints. The back of the burial service Program layout proceeds with an organizing flower foundation outline with beige excessively that is ideal for a sonnet or short eulogy/memoir. The layout is possessing a measurement of 8.5" x 11".

Within shows a complimentary foundation flanked plan which can show the memorial service program request of administration, verse, or finished burial service eulogy. To alter the intro page title, expel our title picture, make a content box and utilize your own textual styles.