Large funeral program booklets
We are happy to introduce you with our new large funeral program booklets. To these booklets, you can add the unlimited pages with the unlimited content in it. These large funeral program booklets can be then distributed to everyone present at the funeral ceremony.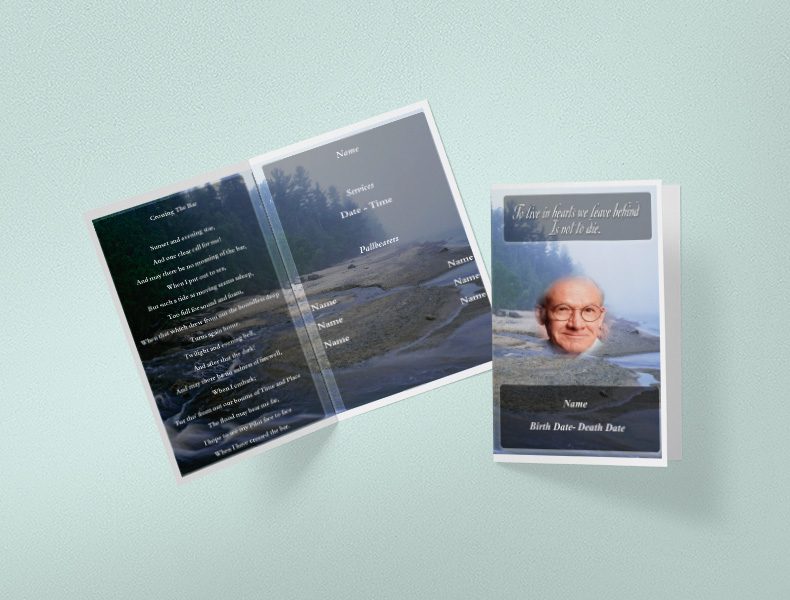 These can be used to keep as a keepsake or we can say as a remembrance token by the attendees'. These large funeral program booklets fill in as the best alternative in the event that there is prerequisite to put the expansive information and pictures in a burial service program.
These booklets, like the other funeral program booklets and funeral stationaries, includes the cover page that contains the deceased one's photograph along with his/her birth and demise dates, funeral poems and scriptures on the inner pages, funeral songs , Acknowledgement and thank you notes on the last pages and many more. These can contain as much information as you want.
Large funeral program booklets arrive in an assortment of plans, subjects, and designs. For the most part, the plan mirrors your cherished one's tastes and identity. You can browse an extensive variety of styles and an assortment of hues and topics. A few styles incorporate religious subjects, and in addition nature and botanical topics. At quickfuneral.com, we have variety of these booklets available .Utilize them for any funeral program of your loved one.
With a little exertion, you can make delightful, large funeral program booklets that will enable you to treasure your cherished one's memory for a considerable length of time to come.
The task of printing these large funeral program booklets is to be done after you have finished with making the fitting burial service format for the left soul. The picking of a format for a memorial service program from a lot of them might be an extreme or befuddling assignment. The individual data is gathered and get installed into the formats and later subjected to printing!
Searching for a Bulltongue Arrowhead Funeral Program Template  that is easy to print and has a cutting-edge look? Bulltongue Arrowhead Funeral Program Template   is the Perfect decision because it measures 8.5"x 11".

No Limitation on Content, Edit anything
Edit anytime – unlimited revisions even after purchased
Get a printable PDF downloaded to get it printed on your own

Searching for a Grey Floral White Tiny Flower Funeral Program Template  that is easy to print and has a cutting-edge look? Grey Floral White Tiny Flower Funeral Program Template   is the Perfect decision because it measures 8.5"x 11".

No Limitation on Content, Edit anything
Edit anytime – unlimited revisions even after purchased
Get a printable PDF downloaded to get it printed on your own

Searching for a Red Flower Dark Soil Funeral Program Template that is easy to print and has a cutting-edge look? Red Flower Dark Soil Funeral Program Template  is the Perfect decision because it measures 8.5"x 11".

No Limitation on Content, Edit anything
Edit anytime – unlimited revisions even after purchased
Get a printable PDF downloaded to get it printed on your own

Searching for a Pink Rose Frame Floral Oval Badge Funeral Program Template that is easy to print and has a cutting-edge look? Pink Rose Frame Floral Oval Badge Funeral Program Template  is the Perfect decision because it measures 8.5"x 11".

No Limitation on Content, Edit anything
Edit anytime – unlimited revisions even after purchased
Get a printable PDF downloaded to get it printed on your own

Searching for a Brown and White Classic Funeral Program Template that is easy to print and has a cutting-edge look? Brown and White Classic Funeral Program Template  is the Perfect decision because it measures 8.5"x 11".

No Limitation on Content, Edit anything
Edit anytime – unlimited revisions even after purchased
Get a printable PDF downloaded to get it printed on your own

Searching for a Purple Elegant Watercolor Funeral Program Template that is easy to print and has a cutting-edge look? Purple Elegant Watercolor Funeral Program Template is the Perfect decision because it measures 8.5"x 11".

No Limitation on Content, Edit anything
Edit anytime – unlimited revisions even after purchased
Get a printable PDF downloaded to get it printed on your own

Searching for a Cream and Green Photo Obituary Program that is easy to print and has a cutting-edge look? Cream and Green Photo Obituary Program is the Perfect decision because it measures 8.5"x 11".

No Limitation on Content, Edit anything
Edit anytime – unlimited revisions even after purchased
Get a printable PDF downloaded to get it printed on your own

Searching for a Cream Simple Elegant Photo Church Program that is easy to print and has a cutting-edge look? Cream Simple Elegant Photo Church Program is the Perfect decision because it measures 8.5"x 11".

No Limitation on Content, Edit anything
Edit anytime – unlimited revisions even after purchased
Get a printable PDF downloaded to get it printed on your own

Searching for a Grey Classic Minimalist Funeral Program Template that is easy to print and has a cutting-edge look? Grey Classic Minimalist Funeral Program Template is the Perfect decision because it measures 8.5"x 11".

No Limitation on Content, Edit anything
Edit anytime – unlimited revisions even after purchased
Get a printable PDF downloaded to get it printed on your own

Searching for a White Classic Funeral Program Template that is easy to print and has a cutting-edge look? White Classic Funeral Program Template is the Perfect decision because it measures 8.5"x 11".

No Limitation on Content, Edit anything
Edit anytime – unlimited revisions even after purchased
Get a printable PDF downloaded to get it printed on your own

Searching for a Cream Gold Marble Funeral Program Template that is easy to print and has a cutting-edge look? Cream Gold Marble Funeral Program Template is the Perfect decision because it measures 8.5"x 11".

No Limitation on Content, Edit anything
Edit anytime – unlimited revisions even after purchased
Get a printable PDF downloaded to get it printed on your own

Searching for an Elegant Beige Funeral Program Template that is easy to print and has a cutting-edge look? Elegant Beige Funeral Program Template is the Perfect decision because is has a measure of 8.5"x 11".

No Limitation on Content, Edit anything
Edit anytime – unlimited revisions even after purchased
Get a printable PDF downloaded to get it printed on your own