Eulogy Examples Sample Eulogy
For first time eulogy writers, things will be easier for them if they could have a material that they could use as basis of their eulogy. Eulogy samples should be used as a guide/template for creating and customizing your eulogy.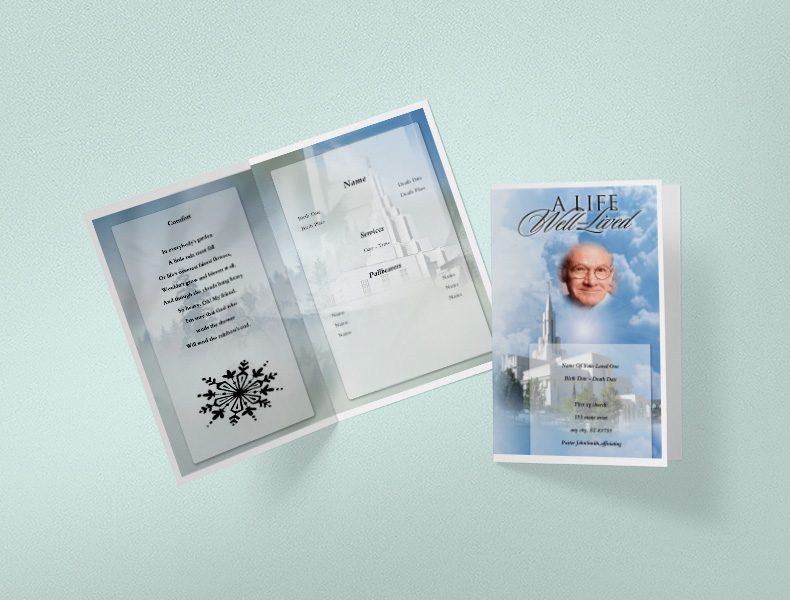 It would still be best if the eulogy contained your own thoughts and emotions about the loss of that person you are dedicating the eulogy.
This section would be a great help for those who are looking for sample eulogies that they can use in their speech.
What can I say about Mama? She was a teacher, and she embraced her profession even in her personal relationship with all her children. She did not only teach us about school, but most importantly, she taught us about life.
A few months ago, Mama was diagnosed with breast cancer and it was already in advanced stage. We, as children would do, wanted her to undergo chemotherapy in the hope of having Mama with us longer. But I remember that Mama took everything calmly. She asked her doctor if he could give her a hundred percent guarantee that chemotherapy would work. The doctor was unable to give her that guarantee. Instead, he advised that it was a chance that she may need to take. After much deep thought, Mama has made a decision. She refused chemotherapy.
In a few short months, we witnessed how her health had deteriorated. But her spirit was always there. She would always say that she would be with us only till December. She was still teaching in the school up to the last day before Christmas break.
The day of their Christmas party, we needed to rush Mama to the hospital. She stayed there for a week, and then she asked to be sent home to spend Christmas with her family. The doctor informed us that there was nothing they can do because she repeatedly refused to undergo further treatment. What we could do was to make her as comfortable as possible during the last few days of her life.
That Christmas was a bittersweet memory for all of us who loved Mama so much. We were happy because we are spending it together with her, and at the same time sad, because we knew that this would be our last Christmas with her.
On her last night with us, we spent the whole night praying with her and for her. We assured her that we would be there for each other, no matter what. On her last breath, a tear trimmed down her face. She found peace at last with her Creator, and that thought is what made us get through the experience of losing our mentor, our model, our mom.
A few days after her death, we found a poem inside her purse. Let me share that with you.
"To Those I Love And To Those Who Love Me"
When I am gone,
Release me, let me go
I have so many things to see and do.
You mustn't tie yourself to me with tears;
Be happy we had so many years.
I give you my love,
You can only guess how much you gave to me in happiness.
I thank you for the love
You have shown me;
But now it's time I travel alone.
So grieve a while for me,
If grieve you must.
Then let your grief be comforted by trust.
It's only for a while that we must part,
So bless the memories within your heart.
I won't be far away for life goes on.
So if you need me,
Call me and I will be near.
And if you listen with your heart,
You'll hear
All my love around you,
Soft and clear.
And when you must come this way along,
I'll greet you with a Smile,
And "Welcome Home".
This is the poem that has inspired us to go on with our lives. I know that as I read this, we can feel Mama listening with us, comforting us, living in us. Mama, this is the one true memory you left that we will cherish, until we meet again.
Here lies an aesthetic Funeral Template of 8.5″ x 11″ having light shade and appearance. If you are hunting down a clear and alleviate arrange then this one is totally fit for you. It is a single folded burial service template that is covering all the necessary points that has to be in incorporated in memorial service program.
The layout has a flower pattern at the background with a very realistic touch. All the texts, images are changeable here. You can feature your content and just use the way you want using the Microsoft word application.

In the event that you are searching for a light shade layout, at that point your pursuit closes here. It is a diminished shading memorial service program layout that highlights the practical shades of life. The nature of the format is quite recently marvelous and solid having a 8.5″ x 11″ design. The diminish shade of this Funeral Program Template is engrossing the consideration.

The regular focuses immersing everywhere throughout the organization has breathe life into the format for remembrance benefit. We can adjust the shading plans likewise to coordinate the inclinations of the life of a perished one. Utilize this one for offering tribute to your cherished one's as the substance boxes are completely modifiable.

Searching for a Bike Ride Funeral Program Template that is easy to print and amass and that has a cutting-edge look? This Bike Ride Funeral Program Template Letter Size is the Perfect decision that is having a measure of 8.5"x 11".

No Limitation on Content, Edit anything
Edit anytime – unlimited revisions even after purchased
Get printable PDF downloaded to get it printed your own

Unobtrusively report the death of a friend or family member with this Funeral Program Template. It occupies an estimation of 8.5" x 11". Textual styles and hues are variable, and the entire look might be improved to an all-around enriched tribute with fringes, photograph arrangements, and line designs.

Include insights about the episode utilizing altering instruments accessible on our Funeral Program Template site and offers this one final support of the individual you have lost until the end of the time.

An unprecedented astounding perspective of a format with a measure of 8.5" x 11", keeping in mind the end goal to give tribute somebody who has been passed away. The wonderful design of this Funeral program template with the excellent sea portrays the sentiment profound distress on remembering the cherished ones. It likewise demonstrates the oblivious to human feelings.

The back of the funeral program template proceeds with a comparable foundation angle outline with white straightforward excessively that is ideal for a ballad or short tribute/life story. Utilize our remarkable format for any funeral program occasion .All the boxes given are modifiable.

Here is a stunning perspective of the Funeral Program Template that portrays the religious topic of an entombment benefit program. The format is covering a region of 8.5″ x 11″.The yellow light of the flame symbolizes the confidence that you are communicating simultaneously. A lit flame can interface the physical world with the profound domain.

Don't hesitate to utilize this format as it is adjustable, the writings and pictures can be modified by you. We additionally give full client bolster on the off chance that you discover any trouble while utilizing these stunning layouts.

The primary hues for this Funeral Program Template are light golden tints. The back of the burial service Program layout proceeds with an organizing flower foundation outline with beige excessively that is ideal for a sonnet or short eulogy/memoir. The layout is possessing a measurement of 8.5" x 11".

Within shows a complimentary foundation flanked plan which can show the memorial service program request of administration, verse, or finished burial service eulogy. To alter the intro page title, expel our title picture, make a content box and utilize your own textual styles.

The main color of the Funeral Program Template is sky blue and white conveying an estimation of 8.5" x 11". The layout offers a transparent overlay at the back that is containing the commemoration benefit verse. Your adored one's photograph will be shown on the roundabout casing at the front.

The internal of the format proceeds with a complement of angle shading that is having the tribute content .Replace it with your own content and use in the dedication benefit program.

A beautiful 8.5 x 11 Funeral Program template called "Cloud Land Funeral Program Template". This bi-fold Cloud Land Funeral Program Template contains beautiful cloudy weather and green land  background which gives an appealing look to printable bifold funeral program.

No Limitation on Content, Edit anything
Edit anytime – unlimited revisions even after purchased
Get printable PDF downloaded to get it printed your own

This Cloud Land Funeral Program Template contains 1 folds with 4 editable and printable sides where you can add your own content such as order of service details and other funeral service details.

There is space to add your family photos to make it more attractive.

Searching for a Colored Autumn Funeral Program Template that is easy to print and amass and that has a cutting-edge look? This Colored Autumn Funeral Program Template Letter Size is the Perfect decision that is having a measure of 8.5"x 11".

No Limitation on Content, Edit anything
Edit anytime – unlimited revisions even after purchased
Get printable PDF downloaded to get it printed your own

A dazzling Funeral Program Template 8.5" x 11" that presents clouds in the bottom resembles the wispy twists of hair. Clouds are emblematically connected with the enthusiastic conditions of the brain, physical conditions of the world and the conditions identified with life.

On the other hand, portray of Lord Jesus at the top right of this amazing template describes the blending of god with humankind. The hugeness of this is significant and will take all endlessness for us to appreciate.

The background of this Funeral Program Template proceeds with the beautiful sky blue color that bears a resemblance to a cloudless precious stone, clear and sparkling. Utilize this program for any occasion or event, all content boxes are completely editable.