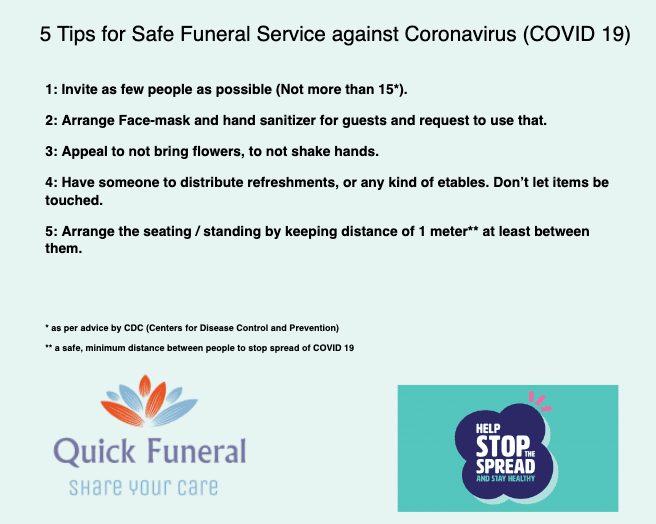 In an effort to slow the spread of the coronavirus pandemic, the Centers for Disease Control and Prevention is now advising against gatherings of 50 people or more for the next eight weeks.

In a guidance announcement issued on Sunday, the agency said it was warning against large events and mass gatherings that include "conferences, festivals, parades, concerts, sporting events, weddings, and other types of assemblies."
How to Organise a Funeral without spreading COVID 19
A funeral service is an event where public gatherings, family members, relatives and friends of loved one's assemble at a specified place. This could lead to the spread of Coronavirus.

We at QuickFuneral.com appeal to not invite more than 10 – 15 people at the service. We also request to be prepared for funeral service but if you can, postpone the date of funeral service to help the US and other countries to fight against this Coronavirus.

Invite as few people as possible.
Arrange Face-mask and hand sanitizer for guests and request to use that. Urge them to wash their hands.
Appeal to not bring flowers, to not shake hands.
Have someone to distribute refreshments, or any kind of etables. Don't let items be touched.
Arrange the seating / standing by keeping distance of 1 meter at least between them.
"This recommendation is made in an attempt to reduce introduction of the virus into new communities and to slow the spread of infection in communities already affected by the virus," according to the guidance announcement.

"This recommendation is not intended to supersede the advice of local public health officials."